Chauffeur Service Korea
Private Car Service in Seoul
Private Transportation Chauffeur Service in Korea
Whether for business or pleasure, our private car service in Seoul and Korea will ensure your comfort and convenience during your stay. We offer a range of luxury, well-maintained vehicles operated by experienced chauffeur drivers.
Best Private Drivers in Seoul
All our personal drivers in Korea come with impeccable safe driving records for your safety and peace of mind, including a ten-year accident-free driving history. Our vehicles are regularly inspected and well-maintained to ensure our chauffeur services in Korea offer you the greatest comfort and satisfaction.
Professional Planning and Consultation
For those catering for events or with specific requirements, we can offer our consultation service to help you plan and manage all your logistical needs. From airport meet and greet services, to ground transfers and private transportation for large groups, VIPs or families, we can help.
Transparent Car Rental with Driver Pricing
We aim to provide transparent Seoul car rental with driver pricing. Except for charges outside of our control, such as parking fees, toll gate charges, meals and entrance tickets, there are no hidden costs. In addition, private transport can work out more economical for families and groups. See our pricing table below.
Securely Book Online
For your convenience, we offer standard half-day and full-day private transportation packages and airport pickup and drop-off services ready to book online. All packages include your choice of vehicle and one of our personal drivers in Korea. We use a secure third-party payment gateway, so no payment info is stored on our website.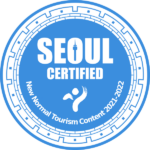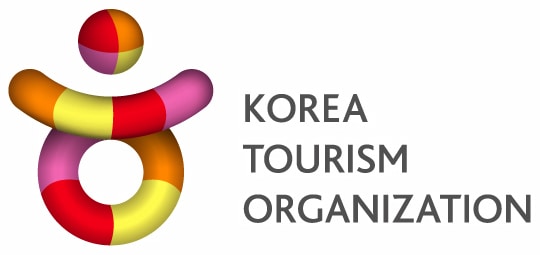 Need a tour guide?
Our private tours come with one of our licensed guides and chauffeured transportation.
Customer Reviews
Having lived in Seoul for 2 years already, I know my way around the city, but I'm still too scared to drive here. So while my family came over to visit us, I decided to book VIP's private chauffeur service. It actually worked out quite economical for us. The drivers were always punctual, had good manners and did their best to get my parents as close as possible to our destination to avoid them having to walk too far. Very satisfied customer.
– Sheena
We had a friend living in Korea, so we only needed transport for our group while we were in town. This turned out to be a really great option for us. We already had a list of places to visit and our friend to show us around. We used the car for the first part each day and then got the driver to drop us off somewhere central so we could continue to wonder around the city.
– George
We opted for the Grand Starex option with licensed tour guide. Our guide was waiting outside the arrival gate and was quick to greet us and help us with our luggage. She efficiently helped us get an airport sim card and data and then escorted us to our car and driver. The driver was very polite and the vehicle was well maintained and clean. Our guide Sophie was able to answer all our questions about Korea and shared lots of tips on places to visit and things to eat. We highly recommend this option for those who have a long flight and / or are traveling with children!
– Connie
Fares for Private Car Services in Seoul (Includes Driver)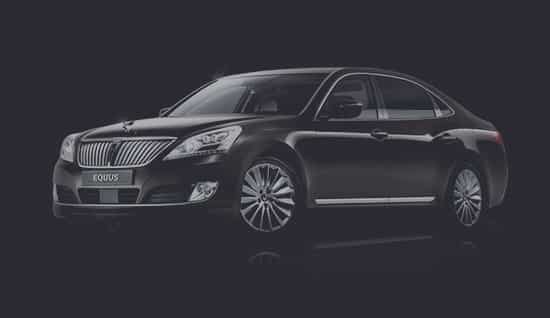 Sedan
₩300,000
Starting from just
4 hours: 300,000
8 hours: 400,000
Additional hour: 70,000
Airport transfer: 180,000 (one way)
Capacity: 2 Recommend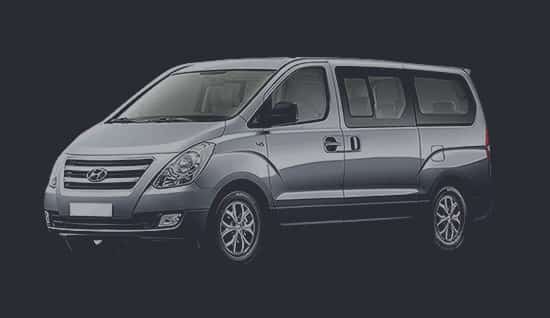 Minivan
₩250,000
Starting from just
4 hours: 250,000
8 hours: 300,000
Additional hour: 50,000
Airport transfer: 150,000 (one way)
Capacity: 4 Recommended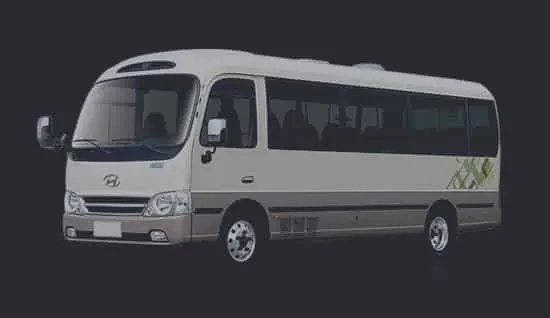 Minibus
₩300,000
Starting from just
4 hours: 300,000
8 hours: 400,000
Additional hour: 70,000
Airport transfer: 250,000 (one way)
Capacity: Up to 12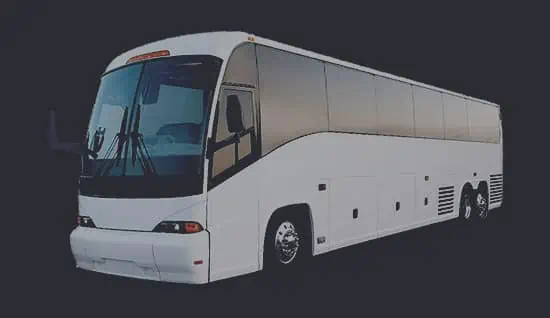 Charter bus
₩400,000
Starting from just
4 hours: 400,000
8 hours: 600,000
Additional hour: 100,000
Airport transfer: 400,000 (one way)
Capacity: Up to 40
The above fares include a driver, vehicle, and fuel. Other variable costs, including parking, toll gates, meals for the driver, and accommodation when travelling outside Seoul, are not included. The minimum number of hours for the private tour transport service is 4 hours. When the tour exceeds 4 hours, the fare for 8 hours is applied. If the tour exceeds 8 hours, an additional hourly charge will be applied. When cancelling on the day of the tour, the cancellation charge is 100% of the booking cost. The company is not responsible for cancellation on the day of the tour due to the customer's schedule changes or the weather. We accept Korean Won, US Dollars, Japanese Yen, and credit cards. The above fares do not include taxes. When required to issue a tax invoice, 10% tax will be added. Payment by credit card replaces a tax invoice.
Private Car Charter (Book Online Now)
Ready to charter a private car? All our luxury and comfortable vehicles come with one of our experienced private drivers in Seoul. If you already know what you need, you can book online below, or feel free to get in touch, and we'll be happy to help.
Need Some Help Booking our Chauffeur Service in Korea?
Catering for an event, international guests or just have a special itinerary or requirements? No problem! Our professional team are ready to help. We can assist with all aspects of ground transportation and logistics in Seoul and across South Korea. Simply get in touch below:
We can help with:
Personal driver in Korea
Luxury / comfortable and well-maintained vehicles
Licensed guides, professional escorts and interpreters
Private ground transportation
Airport meet and greet services
Chauffeur services in Korea for business or pleasure
Consultation, planning and logistics
Seoul private driver with an impeccable driving record
Transporting VIPs, investors and large groups
Simply fill out our Korea Chauffeur Service Enquiry Form, and we'll get back to you as soon as possible.
Korea Chauffeur Service Enquiry Form