Our DMZ tours from Seoul offer a truly unique and unforgettable Korean experience. Glimpse into North Korea from across the most heavily fortified border in the world! But be sure to be on your best behaviour, as this is a politically sensitive and military controlled area. This tour is not to be missed!
Read more for Restrictions & Schedules
A Brief History and Introduction to the DMZ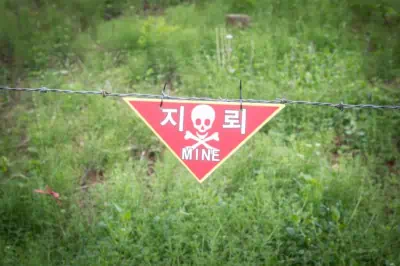 Korea is a divided nation. Since 1953 a 4 km wide stretch of no man's land, known as the Korean Demilitarized Zone (DMZ), has separated South and North Korea. This buffer zone has become the most heavily fortified and guarded border in the world.
It is believed by experts that somewhere between 1.8 – 2.2 million landmines have been planted here. 1 – 1.2 million by the US and South Korea and another 800,000 to 1 million by North Korea.
The DMZ was established as the result of the Korean Armistice Agreement between North Korea, China and the United Nations Command (UNC). This cease fire agreement effectively has put the Korean War "on hold". The DMZ reaches 250 km long, by 4 km wide. Roughly dividing the Korean Peninsula in half.
Inside of the DMZ is an area where both nations can meet for negotiations. Today it's known as the Joint Security Area (JSA), while the original village was called Panmunjeom and was located 800 metres further North. However, for all intents and purposes regarding tours of the DMZ, the JSA and Panmunjeom can be considered one and the same.
The DMZ today is it safe?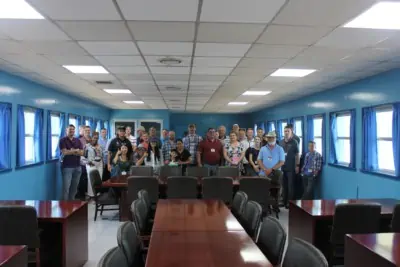 Considering its history and that the DMZ (especially the JSA) has suffered various incidents with both military and civilian casualties, you might be wondering if it's safe to take your family on a DMZ tour.
Well, you'll be glad to know that these days it has become quite safe for travelers. In fact DMZ tours from Seoul are one of our most popular day tours.
In addition, since October 2018, both sides have removed all firearms from the Joint Security Area, cut personnel stationed there to 35 on each side, removed 11 guard posts along the demarcation line and removed some landmines.
NO forced shopping stops on our DMZ tours
Our tours are unique in that we offer high quality DMZ tours from Seoul with No shopping stops along the way. VIP Travel are currently the only tour operator offering this. Therefore you can make the most of your time during this truly unique Korean experience.
Booking Restrictions for tours of the DMZ
Due to this being a military controlled area run by the United Nations Command (UNC), there are some restrictions we have to abide by:
DMZ tours
Our Half Day DMZ tours offer very few restrictions and can be booked the day before. All visitors are required to bring their passports. Passports will be checked by soldiers at the Unification Bridge and before entering. Children are also welcome when accompanied by an appropriate parent or guardian. No age restrictions are in place.
Can be booked on relatively short notice.
Bring your passports on the day!
No age restrictions! Children accompanied by parents are welcome.
JSA / Panmunjeom Tours
The JSA / Panmunjeom on the other hand have very tight security restrictions for those who wish to visit. We therefore require all guests to book a minimum 72 hours in advance of their preferred tour date. Although we recommend booking as far in advance as possible!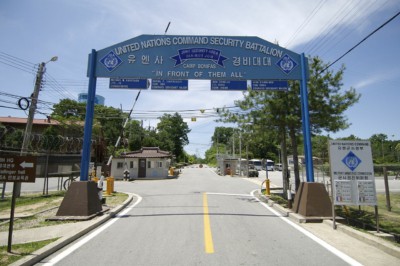 We will also require a full color copy of your passport photo page. This is required so we can send it to the UNC in order to register your visit. Note you will still be required to bring your passport on the day for further ID checks during the tour.
There is also a minimum age restriction for children. Children should be at least 12 years old with no exceptions to this rule.
Our final word of note is that there are limited spaces available. The number of visitors who can visit Panmunjeom per day is capped by the UNC. Once this limit is reached, booking will no longer be possible. Please feel free to reach out to us regarding your preferred dates to see if there is availability before booking.
Need to book a minimum 72 hours in advance.
Recommended to book as far in advance as possible.
Passport color copy required during booking for UNC registration.
Bring your passport on the day!
Age restriction: Minimum 12 Years old (No exceptions).
Number of visitors per day are limited by the UNC.
DMZ tour Schedule
Tours of the DMZ are possible every day with the exception of Mondays, national Holidays and military training days. We run 2 Half Day DMZ tours daily. One in the morning and one in the afternoon.
JSA / Panmunjeom tours run a similar schedule except they are also unavailable on Sundays and are more affected by military training and political events. Both our Panmunjeom tour and DMZ JSA tour visit Panmunjeom (Joint Security Area).
DMZ tours: Unavailable on Mondays, national holidays and some military training days.
JSA / Panmunjeom tours: Unavailable on Sundays, Mondays, national holidays, military training days and during some political events.
Panmunjeom Dress Code
Tours which visit the Panmunjeom / JSA have a strict dress code. This is partly because it has been known for North Korean soldiers to take photos of poorly dressed tourists to be used in propaganda efforts.
Visitors are therefore asked to be respectful and abide by the following rules as they will be enforced:
No sleeveless shirts.
No t-shirts without a collar.
No short pants or skirts.
No sandals.
No military looking clothing.
No clothing showing flags or name of nationality.