Skiing is an exciting sport that keeps you in great shape and allows you to spend time in clean nature. Ski tours in Korea are also a wonderful winter activity for the entire family. Our Korea Ski Tours are suitable for any level of expertise and guarantee a delightful time for everybody!
Which Ski tour is best? Read more
Korea Ski Season – Duration
The beauty of skiing in Korea is that the season is quite long. The slopes are open from November / early December to March. While if you choose to stay at Yongpyong Resort, you will be able to enjoy an even longer ski season. This is because Yongpyong receives the most snowfall in Korea.
With that in mind, let's have a look at our Korea Ski Tour options and help you choose the best one for you! There is something for everybody – avid skiers can improve their skills, beginners can learn, and those who don't want to ski can go play in the snow and indulge in delicious food.
The Perfect Seoul Ski Tour For Families
Are you looking forward to spending some quality time with your beloved family? Then our Jisan Ski Resort Package is the ideal Korea ski tour for you! If your children are very young, they can still join the trip as there is no age restriction.
Jisan Resort is located only 90 minutes from Seoul by car, so you will arrive in a fast and convenient way. It's also what makes it the best Seoul ski tour (due to its close proximity to the capital city).
We'll make sure that all the transportation is taken care of so you don't have to worry about a thing.
Enjoy The Most Stunning Views & Best Slopes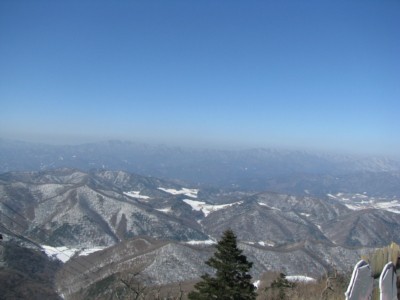 Yongpyong Resort is known for being South Korea's top ski spot. The slopes are suitable to anyone – from the avid skier to the first-timer. Families are most welcome to enjoy their vacation here as well. Those who have skied before will jumpstart their trip at Yongpyong.
Our Yongpyong Ski and Stay Package will give you enough time to practice and relax. If you don't have time to stay overnight, that's perfectly fine. Go for our Yongpyong Ski Package instead. It will allow you to enjoy the beauty of the mountains in a single day and have you back in Seoul in time for your next engagements.
Nami Island – Experience the Gorgeous Korean Winter
If you'd like to indulge in the ultimate Korea winter experience, our Nami Island + Enjoy the Snow tour is the perfect fit! This trip is excellent for those who want to play in the snow, both kids and adults. Build a snowman, have a snowball fight, or make some snow angels, you'll have plenty of time for fun!
Why a Ski Tour in Korea is an Amazing Vacation
Korea itself is 70% mountainous and due to greater exposure to Siberian winds, means winter gets extremely cold. Naturally this makes for fantastic skiing conditions. This goes hand in hand with Korean people's love of skiing. Add this altogether and the result is that skiing has become a very developed sport in Korea.
There are plenty of options to go on a Ski tour in Korea to ski or simply relax in nature. Our Ski and Stay packages are ideal for those who want to have access to incredible views and spend the night. But, if you're short on time, choose our one-day tour instead. You will still be able to make the best out of the slopes and enhance your skills.
How to Ensure Maximum Comfort on our Korea Ski Tours
Make sure to dress warmly. Bring waterproof and water-resistant clothes and boots. If you don't have them, don't worry! Our Full Package options and overnight stay packages include a ski suit for skiing. And of course, if you don't have, or forget to bring something, the ski resorts have everything you will need.
What to do if Someone in the Group Doesn't Want to Ski
What if you are traveling with family and friends and someone in the group doesn't want to ski? That's not a problem at all! There are plenty of other activities for them at the resorts, especially at Yongpyong. With many restaurants available, they will have a relaxing time sipping a cup of hot tea with a delicious meal. It's really hard to get bored in such beautiful settings with so much to explore.
For those on a 1 day tour who do not wish to partake in skiing, simply choose the "Enjoy the Snow" option. Then, either on the bus, or after arriving at the resort, be sure to ask your tour guide for some suggestions. All our staff will be happy to help. With so many places to explore at the bigger resorts, it can be easy to miss something.