Our Nami Island tours are one of the most popular 1-day activities for those visiting Seoul, and for good reason! This Instagram shooting hot spot provides an absolutely gorgeous scenery in every season! Combined with either another activity or visit to a different local attraction, a day tour to Nami Island is guaranteed to be a memorable experience!
Read more for Tour Course Info
Namiseom vs Namisom vs Naminara – What's the difference?
An often confusing point for first time visitors to Seoul are the different names given to this famous island. But don't be confused because it's quite simple really. Namiseom and Namisom are just different phonetic spellings of the Korean name for the island (남이섬). While Nami Island is the English translation and most commonly used term.
Naminara Republic, or Naminara for short on the other hand is a cultural tourism brand. Pretending to be its own country and used to declare its cultural independence from the Republic of Korea. Their official stance is that "Naminara celebrates the imagination and shares its beautiful fairy tales and songs with guests from all over the world".
So regardless of which name you go by, for all intents and purposes you'll still be taking a tour to Nami Island.
Where is Nami Island?
Nami Island is located in Chuncheon, Gangwon Province. So where is that exactly? Well its 63 kilometers from Seoul. It takes roughly about an hour to get there from Seoul's suburbs by car, or about 90 minutes from downtown Seoul.
The island itself was formed in the middle of the North Han River. It's the same river you will see flowing through the center of Seoul, just much further upstream.
Nami Island tour from Seoul – Course and Itinerary
We offer 4 different Nami Island tours from Seoul. Each one offers a similar course and itinerary, but with 1 key difference. It is combined with another local activity or must see hot spot located nearby.
Being so close to Chuncheon, your experience wouldn't be complete without indulging in a delicious Dak Galbi (chicken stir fry). This is because Chuncheon is the origin and home town of this iconic dish. So that's exactly what's on the lunch menu – a mouth watering traditional Chuncheon dak-galbi.
Our itinerary therefore looks like this:
Complimentary Seoul hotel pick-up
Transportation from and to Seoul
Ferry to Nami Island (included) / Zipline to Nami Island (optional additional charge)
Explore the island
Tasty dak-galbi lunch in Chuncheon
A second stop at either – Gardend of Morning Calm / Petite France / Rail Biking / Strawberry Farm / Elysian Gangchon Resort (Pick 1)
Quick stop at the Korean Amethyst or Ginseng Center
Seoul Hotel Drop-off
Which tour should you choose?
As described above each tour to Nami Island is combined with a second location or activity located nearby. We find this is the perfect balance to make the most of your day trip, while still having enough time to enjoy each stop without having to rush.
Here is a quick overview of each Nami Island tour package:
Still not sure what to choose? Then we would recommend our Nami Island and Garden of Morning Calm tour. This is our most popular option.
Adrenaline junkies can take the Zipline from Gapyeong Wharf
Are you an adrenaline junky? Would you prefer a heart pumping entrance to Nami Island rather than a relaxing ferry ride? Then you can consider taking the zipline to Nami Island! Although more popular with our younger audiences, those who are still young at heart are welcome too.
Beware though that the zipline to Nami Island from Gapyeong Wharf starts from an 80m high tower and is 940m long. So if heights aren't your thing, then its probably best to stick with us on the ferry. While the zipline will offer you an additional thrill as you speed across to Nami Island overhead, just be aware there will also be an additional fee on the day. For those that are interested, simply let your tour guide know on arrival at Gapyeong Wharf.
Stunning in every season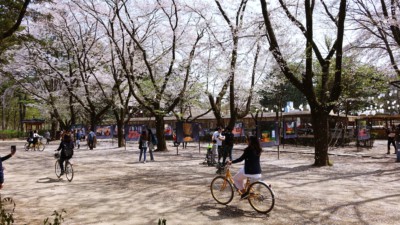 Nami Island is great regardless of the season. Which is the best season really comes down to a matter of preference, and is a much debated subject.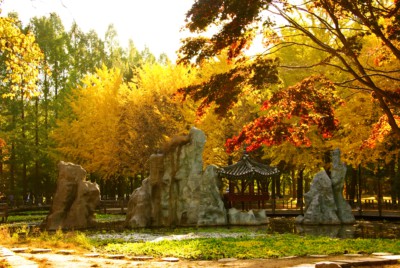 Spring (March – May) offers fantastic temperatures, beautiful cherry blossoms and delightful smells. Summer (June – August) gives the opportunity to make the most of the Water Garden Swimming Pool and bright green leaves. Autumn (September – November) is full of bright yellow, red and golden brown leaves, perfect temperatures and clear views. Winter (December – February), often popular with kids and lovers of snow provides ideal conditions for building snowmen, sipping on warm cocoa and catching a glimpse of the bare trees covered in heavy snow.
Top Spots to See on the Island
During your day trip, one of our kind tour guides will give you a quick overview of the island, and point you in the direction of some of the main spots. Be sure to ask anything you'd like to know. From directions to recommending a good cup of tea or cocoa they'll be happy to help.
To get you started here a some of the top spots you might want to check out:
Ginkgo Tree Lane – Glows a gorgeous yellow in Autumn
Gongsaengwon Garden – See the famous "Winter Sonata" statue of the 2 main characters
Water Garden Swimming Pool – Perfect in Summer
Baekpungmilwon Maple Garden – Expect some reds from September to November
Jeonggwan Baekryeonji Pond – like looking into glass
Nami Island Sky bike – A bit of above the ground fun for everyone
Zipline to Nami Island – A must for thrill seekers
Maple Lane & Namipungwon Maple Garden – Take a stroll along the lane of true love
Metasequoia Lane – Filming location for many of the romantic scenes from Winter Sonata
Eco Farm Yeonryeonji Pond – Try to spot ostriches, squirrels, ducks geese and many birds
Central Train Station – Take a train around the island
Hut Bridge – Walk over a section of the Han River
Rent a bike from the Bike Center – Pedal around the island. It's the most efficient way!
Elysian Waterfall – Because every paradise needs one
Plus many more…
Ready to Explore? Well that was a silly question. Of course you are! Pick your favourite Nami Island tour below, and a member of our helpful team will take care of the rest.