Korea is a country that's beautiful all-year-round, but there is something extraordinary about the fall season. If you'd like to witness the magic of falling leaves, soft colors, and cozy weather, this is the best time to visit!
From beautiful hikes to delicious food, city sights, and festivals – we've got all the information you need in order to have the experience of a lifetime! We'll give you our local tips on what to wear, weather forecast, and what to visit in order to create memories you'll cherish forever.
Autumn in Korea – Why should you visit during this time?
There are many reasons why you should visit Korea between September and November. The colorful turning leaves are accompanied by amazing weather. Temperatures are optimal at this time, allowing you to explore in comfort. While you can't go wrong when choosing the month of your trip, there are slight differences in the autumn months.
Weather in Korea in September: September in Korea is generally sunny and clear. Temperatures vary between 17°C and 25°C, so you will enjoy a fresh morning and a pleasant afternoon.
Weather in Korea in October: October tends to be a bit chillier but still very comfortable. Temperatures are generally between 14°C and 21°C, allowing you to get cozy in a knit sweater and a pair of loafers.
Weather in Korea in November: November is the least warm month during this season, but still quite nice for traveling! You will enjoy a crisp morning and sunny midday. Temperatures tend to be between 9°C and 16°C. Days are sunny or partly cloudy and it doesn't rain very often.
The autumn foliage in Korea is the ultimate treat for the eye
Many travelers love the autumn in Korea because of the gorgeous colors it brings. This is an experience not to be missed for those who wish to indulge in nature activities and photography. We suggest that you follow the Ginko Tree Lane.
Located on Nami Island, the Ginko Tree Lane is arguably the most quintessential symbol of the autumn here. You can stroll past the trees which are covered in shades of golden yellow and warm red. You can either walk or ride a bicycle, as there is a spacious bike lane. When you get tired, you can take a break in one of the rocking chairs by the Han River. This place is suitable for kids as well. In fact, it makes a wonderful scene for an autumn picnic!
Alternatively, if you decide to stay in Seoul and want to see the Ginko trees, head over to Garosu-gil in the Sinsa District.
What to wear – explore in comfort
Thanks to the crisp autumn mornings and sunny afternoons, you will be able to wear comfortable clothing that is not too heavy. We recommend that you pack a light jacket for September and October, and a warmer coat for November. You are welcome to bring a scarf and a pair of gloves if you're traveling from mid-October to late November.
Packing a light umbrella would be ideal so that you are prepared for any surprises! Bring a pair of sunglasses for the sunny afternoons in September. Make sure that you pack comfortable shoes, as some of the tours will be quite active. Sneakers or moccasins would be ideal.
If you're a food lover, you might want to bring a light lunch box to pack some snacks or use to store as you buy traditional foods on your way.
10 Most unique places to visit during autumn in Korea
You will find plenty of gorgeous places worth a visit during the fall season, but some of them are jaw-dropping and must be added to any seasoned traveler's bucket list. We've put together a list of the best national parks and cultural sites that are not to be missed in the autumn! Make sure your camera is charged and you're ready for an adventure because this list is as diverse as it gets!
1. Conquer the trails of Seoraksan National Park
What makes Seoraksan unique are the crystal clear mountain streams and well-done trails which explorers of all levels can enjoy. Autumn is the ideal time to visit in order to see the falling leaves! The highest peak here is Daecheongbong Peak at 1,708 meters. Because of the altitude, the park offers views that range from cliffs to waterfalls, to snow-covered peaks. You will feel as if you've stepped into a natural wonderland!
Enjoy a well-organized hike and the most stunning views with our Mt. Seorak Daily Tour.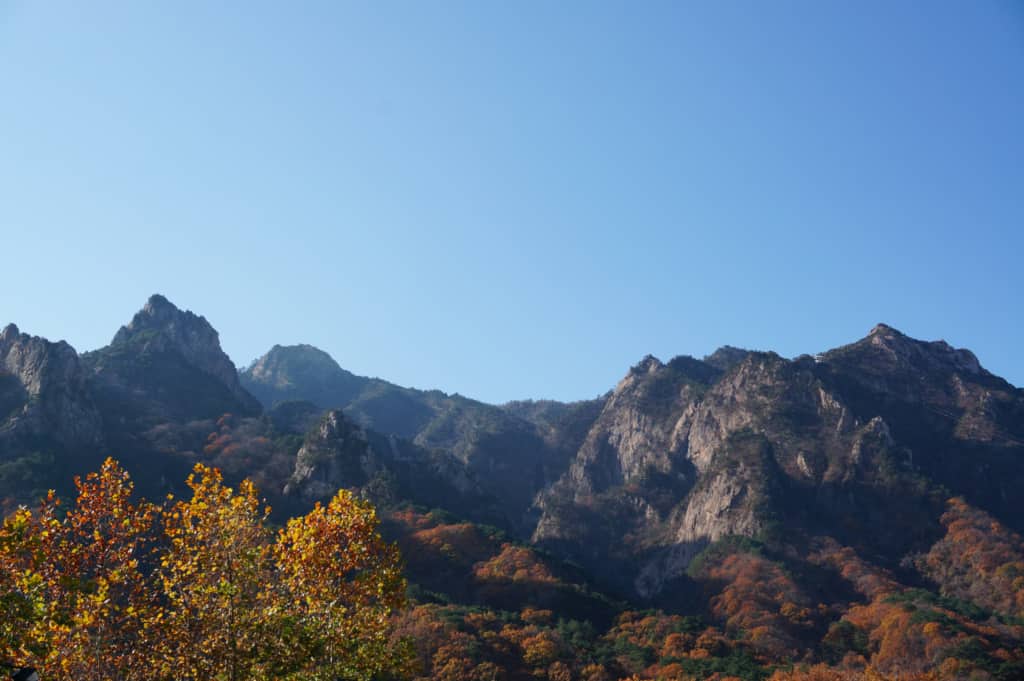 2. Take in stunning natural views at Bukhansan
Bukhansan is another attractive hiking option which has been recognized as one of the world's top places to see in the autumn because of the beautiful leaves that change from September to November. This mountain is located to the north of Seoul which makes it easily accessible, regardless of how much time you have.
There are three distinct peaks with varying height – Baegundae at 836.5 meters, Insubong at 810.5 meters, and Mangyeongdae at 787.0 meters tall. Hiking here is appropriate for both beginners and intermediate levels. Pack comfortable sneakers and a scarf. The complete distance from the bottom to the highest peak, going across all three is about 7.4 kilometers, which for advanced climbers should take less than 2 hours.
If you'd like to be active and then relax in style, go for our Mt Bukhan + Sauna Full Day Tour, which includes climbing Mt. Bukhan, lunch, and a well-deserved spa treatment after the hike.
3. Go on a waterfall adventure at Naejangsan National Park
While most travelers can tell you that Naejansan National Park is famous for its crimson leaves during the autumn in Korea, this place has far more to offer.
Here, you will find Dodeokpokpo Falls and Geumseonpokpo Falls. The waters of Dodeokpokpo come down a cliff at a great speed, demonstrating the force of nature. Geumseonpokpo, on the other hand, is in a valley and is calmer. The views are quite stunning.
While at the park, you absolutely need to visit Baekyangsa Temple which is located right on the water against a beautiful mountain background.
4. Fans of K-Drama will feel like movie stars on Nami Island
K-Drama is one of the most popular aspects of Korean media culture. There are many fans each year who come to visit Nami Island, as it is one of the primary filming locations of shows such as Winter Sonata. Autumn is perhaps the best time to come here, as the island looks fantastic covered in colorful leaves.
Photographers will absolutely love taking shots down the roads lined with Ginko and maple trees, which at this time are at their brightest. There is an overall sense of magic in the air during the autumn at Nami Island.
If you'd like to visit more K-Drama locations, check out Hyangwonjeong Pavilion in Gyeongbokgung Palace, Seoul. There's also MBC Dae Jang Geum Park, Yongin, and the Korean Folk Village.
5. Immerse yourself into culture and tradition at the Korean Folk Village
The Korean Folk Village is loved by both locals and international travelers. Housing many Joseon Dynasty remains, the village has many seasonal traditions. Here you will hear farmer's music (nongak) and see martial arts performed on horseback. It's not unlikely that you see a traditional wedding in the village, too!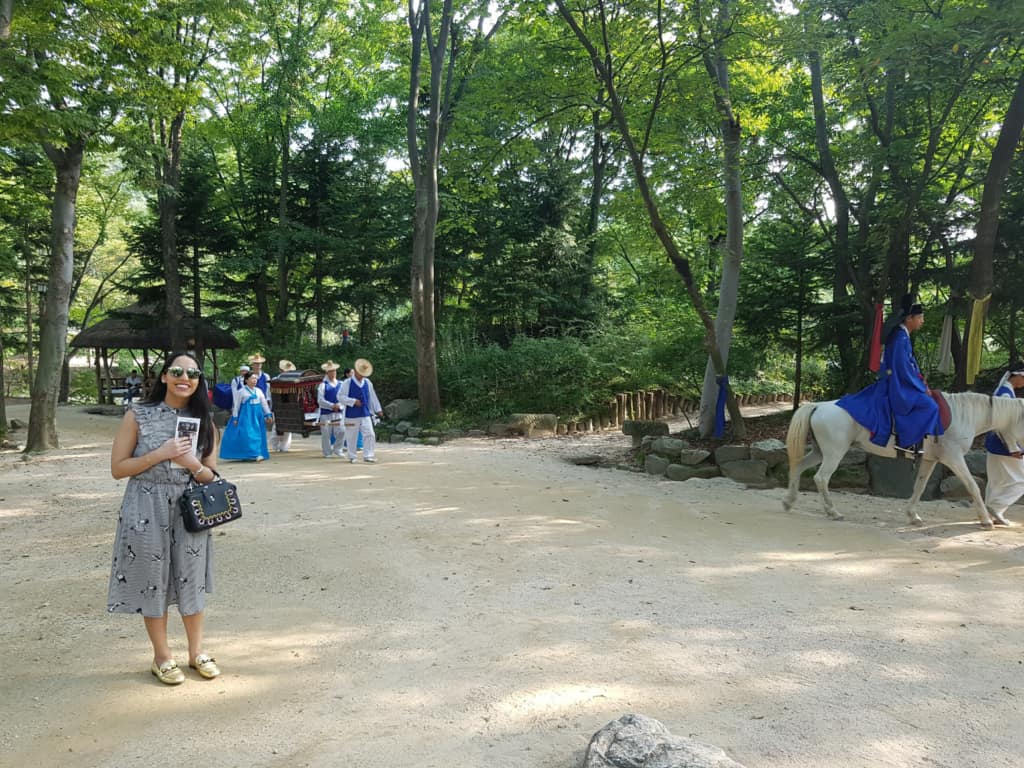 If you are with your family, you can enjoy the sledding site, and visit the traditional market. This is the best place to try jeungpyeon (증편) which is a steamed and fermented rice cake. You can also indulge in pajeon (파전) which is a grilled onion pancake. Wash your meal down with dongdongju (동동주), the most authentic liquor in the region.
You can book our Korean Folk Village tour for a complete and seamless itinerary, so you don't miss a thing!
6. Eat local delicacies at Daepo Port
The Sokcho area is wonderful during the autumn in Korea, and a trip to Daepo Port is the best place for those who enjoy good food while sightseeing. Here, you will find the freshest raw food shops and indulge in the delicacies of the sea at the live fish market. If you're not too much into seafood, you can enjoy traditional dishes at Gamja Songpyeon.
If you have never tried this delicacy before, songpyeon is a rice cake that locals eat during Korea's autumn festival, Chuseok. This treat should be on every foodie's list as it is uniquely local and has a cultural significance.
7. DMZ – A Tour Through History
If you'd like to take a step back from nature and explore some history instead, come visit the DMZ. Korea is a unique country when it comes to its division. At the Demilitarized Zone and the Joint Security Area (Panmunjeom), you will see the strongest fortified wall border in the world.
Visit Imjingak, 7 kilometers away from the DMZ, which is the most visited place at the forefront of the political conflict. At three-floors tall, Imjingak is surrounded by the Unification Park and the North Korea Center. Visit in the autumn to get the clearest view across the border from Dorasan Observatory.
8. Enjoy a slice of paradise – Jeju Island
Dubbed as "the Hawaii of Korea," Jeju Island is a fascinating place that draws locals and foreigners alike. Some of its most curious highlights are the caves, such as Manjanggul Cave which is a lava tunnel, and the Saryeoni Forest Path. The forest is the perfect place to enjoy peace and tranquility alone or with your loved ones. The cedar forest starts at the entryway of Regional Road 1112, so the best way to visit is by car. Come between September and November to see the autumn leaves!
Here, you'll see not just cedar trees but Japanese oak, snowbell trees, and birch. If you're up for some exercise, you can choose to walk along the path which will be very therapeutic.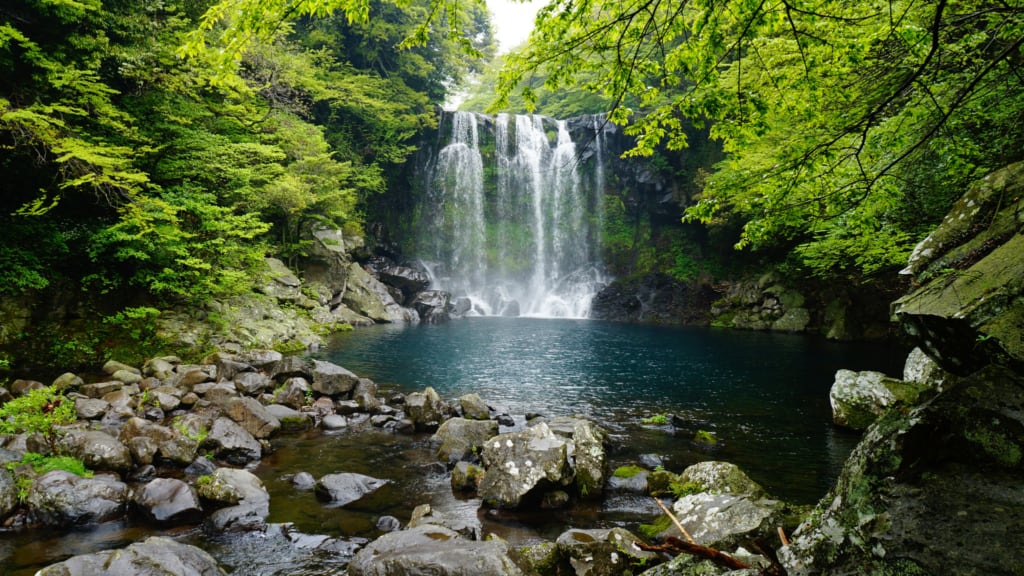 Another impressive feature of Jeju Island is the Hallasan volcano. You can absolutely hike here without worrying about safety. If you'd like to see the crater, take either Gwaneumsa Trail and Seongpanak Trail. If you prefer to just enjoy the scenery and take photos, go for Eorimok Trail which takes you to a scenic viewpoint.
Don't miss a thing with our 3 Days 2 Nights Jeju Island Tour.
9. Bike along the falling leaves – Gangchon Rail Park
If you'd like to be active while you travel, the Gangchon Rail Park is the perfect fit! You'll be cycling along the old Mugunghwa train track which will give true authenticity to your experience. Autumn in Korea is the best time for this trip, as you'll see plenty of colors around and feel like you've stepped into a fairytale. You should prepare by bringing a light jacket if you come from mid-October to late November, as well as a water bottle and a snack.
10. Soak up tradition and history at Bulguksa Temple
If you'd like to change up the pace, head over to Gyeongju. This is a coastal city famous for its rolling hills which are actually royal tombs. Virtually anything you see here will have a major cultural significance, whether it's a rock carving, a pagoda, or a statue. A visit here combines the best of both worlds – history and the outdoors.
Located at the slopes of Mount Toham, Bulguksa Temple is the main temple of the Jogye Order which gives it an important historical and cultural significance in the world of Korean Buddhism. Here, you will see the Dabotap and Seokgatap stone pagodas, Cheongun-gyo, and two bronze statues of Buddha. The site is protected now, as a UNESCO Heritage Site.
Autumn in Korea – celebrating food and nature at the best local festivals
What would autumn in Korea be without its favorite festivals! Some of the events you should not miss are:
Wanju Wild Food Festival – This festival takes place from October 5 to 7 and is all about sustainability. It focuses on showing Wanju's local delicacies and encouraging tourism in the area.
Chuseok (Korean Thanksgiving) is a 3-5 day mid-autumn festival that celebrates a good harvest season. If you plan on visiting Korea during Chuseok, you should book your flights as far in advance as possible. Once in Korea, if you're planning on traveling to or from Seoul, then again be sure to buy transportation tickets in advance to avoid disappointment.
Masan Gagopa Chrysanthemum Festival is another must-see during the last week of October. This one celebrates nature and happens in the Masan District. The area is famous for its gorgeous chrysanthemum flower. You will see it in many forms, arrangements, and sculptures.
Ganggyeong Fermented Seafood Festival – Seafood is an important aspect of Korean cuisine. Come enjoy the tastiest dishes at the Ganggyeong Festival. It happens between October 17-21. Here, you will be able to not only taste the top local chefs' meals but also learn to prepare them!
Hyo Culture Ppuri Festival – the most exciting thing about this festival, which happens in October, is the colorful ceremony and music that is played. There will be street food as well because no festival is complete without snacks!
Taste Korea's delicious autumn cuisine
Autumn in Korea will never be complete without some iconic local delicacies. You should try everything you can because this is one of the best ways to experience the culture! Here is what you should try during the autumn season according to the month:
September in Korea: this is the best time to have chestnuts. They come roasted (군밤) or stuffed in bread (밤빵). You can also find pears, apples, and citrons which are juicy and flavorful. Don't forget to warm yourself up with a cup of Citron (감귤차) or Chrysanthemum tea (국화차)! These teas get quite popular during autumn in Korea as that's when they are harvested.
October in Korea: October brings more rice cakes as well as beans, chrysanthemums, radishes, and fresh vegetables. This is also the perfect time to eat seafood. The jumbo shrimp and blue crab are the most popular ingredients this season.
November in Korea: The coldest autumn month comes with warm soup! You can try red bean porridge or Patjuk (팥죽), which is popular during colder months (although this is an acquired taste). We would rather recommend Samgyetang (삼계탕) to our guests which is a delicious chicken soup cooked with Ginseng. Follow your soup with the cozy cinnamon drink Sujeonggwa (수정과) and spice it up with some extra ginger.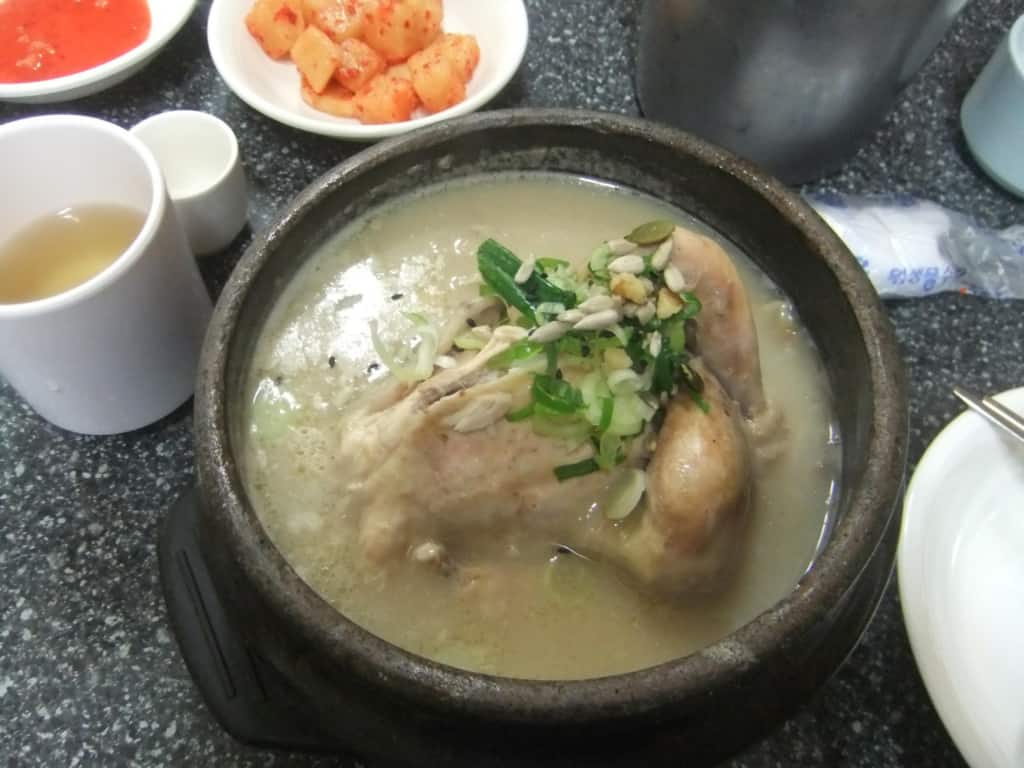 Spending autumn in Seoul? Here's what to do
If you choose to stay in the city during your autumn getaway to Korea, then you will not be bored. Go up to Gwanaksan Mountain to have a front-row seat to the best aerial view of the city. The best time to make the hike up is September to early October.
Visit Namsan Tower, which is another lovely spot that offers fantastic views and is located right in the heart of the city! You can go up there on foot or take the cable car for extra fun and less effort.
Come see the lotus pond in Changdeokgung's Secret Garden. This gem offers more than 100 species of trees and pavilions where you can relax and get inspired!
Olympic Park Seoul is the home to a beautiful field of pink muhly grass that is only in bloom from September to November. Here, you can go biking, or get a cup of coffee with friends.
As you can see, autumn in Korea is a wonderful time for a vacation. Whether you're trying new dishes or exploring the temples and mountains, there is something for every taste! All you need to do is pack your bags and enjoy!
So where would you like to visit this autumn in Korea? Let us know in the comments!