Camping in Korea is growing rapidly year on year. So much so that it is now one of the most popular outdoor activities amongst locals.
As the quality and number of facilities offered by campsites have improved, glamping in Seoul and other parts of the country have seen a sharp upswing in popularity.
The lower barrier to entry has also contributed to less stereotypical campers also getting involved. With gorgeous scenery, stunning views, and delicious world famous Korean food on offer, there's no surprise why this trend is catching on like fire.
So in this post we're going to introduce you to some of the hottest places to go camping in Seoul and Korea. But first, let's discuss when is the best time.
Best time of year to go camping in South Korea
While year round camping is available at better equipped campgrounds like Nanji Hangang Park in Seoul, it is more for the die hard brave types, and you'll need to be prepared for extreme temperatures.
With four distinct seasons, we find that the best time to go glamping or camping in Korea is between late Spring (May) and mid Autumn (October). This also coincides with the general Korean "camping season", which typically runs from April / May until September / October.
Another thing to bare in mind is that the Spring Cherry Blossoms offer gorgeous pink and white blossoming flowers and lush green scenery some where between the middle of March and middle of April.
While around October and November is usually the best time to catch the bright coloured red and yellow autumn foliage.
Mid-July to Mid-August is usually very hot, rainy and humid (even at night), and is when roughly 85% of Korean workers usually get summer vacation time. This coupled with school holidays means campsites can get very busy and fully booked up.
Camping in Seoul
1. Nanji Hangang Park
First up Nanji Campground, which is the most popular and largest camping site in Seoul. It was also voted as the favorite and most preferred campsite in Seoul city by 22.7% of respondents in a survey by Seoul Metropolitan Government.
This site boasts being able to accommodate up to 2,000 people with 165 camping spaces available. Because of this Nanji Camping ground is also one of the most comfortable with a large range of facilities available.
These include showers, restrooms, open sinks, drinking water fountains, cooking grills, picnic tables as well as convenience shops where you can pick-up any essentials you may have forgotten to bring.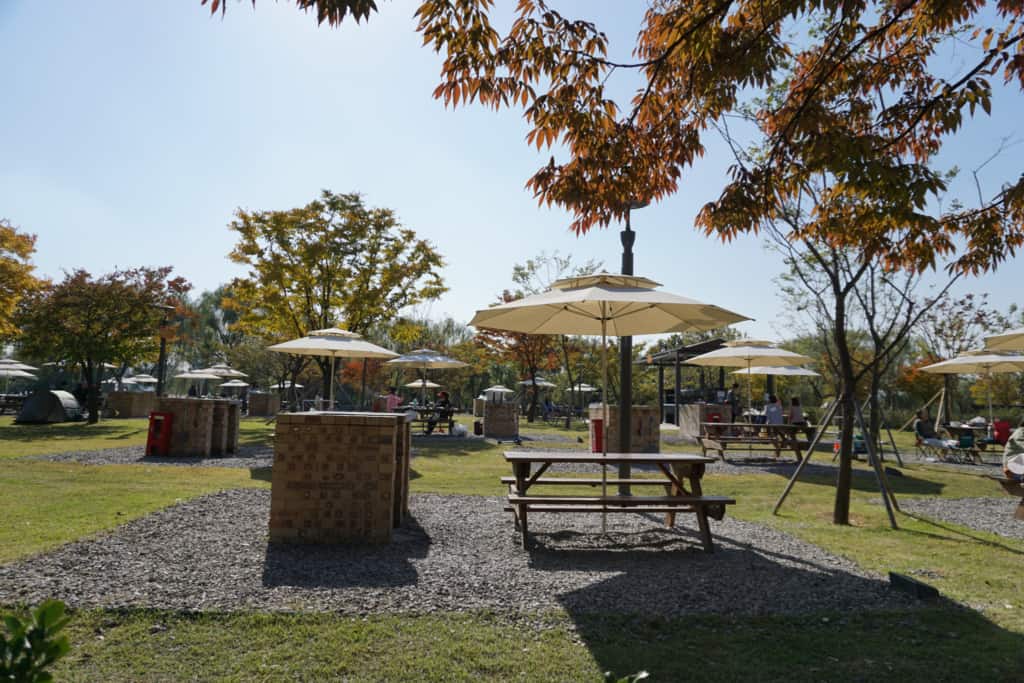 Being located in Nanji Hangang Park in the West of Seoul, the camp-ground sits right alongside the gorgeous Han River. The BBQ and campfire zone, along with its facilities and location also make it the perfect place for eating and hanging out with friends and family and is the reason it makes our top pick for Seoul.
Address: 495-81 Sangam-dong, Mapo-gu
Book the Best Camping in Seoul City Experience at Nanji Hangang Park.
2. Seoul Grand Park
Situated inside the lush green forest of Cheonggye Mountain Seoul Grand Park is located nearby Seoul Grand Zoo, Seoul Land and the National Museum of Contemporary Art, so its not your typical Korean campsite. Although being located nearby these attractions does make enticing for those with children.
The park offers camping equipment available for day rental as well as making it convenient for those who don't wish to stay overnight.
Address: Seoul Grand Park 102 Daegonwon-Gwangjang-ro (Makgye-dong), Gwacheon city, Gyeonggi province
Website: https://grandpark.seoul.go.kr/conts/contsView/en/S002004003001.do
3. Noeul Campground
Get out of the city (while not actually leaving the city) by making your way over to Noeul Park Campground. Sitting amongst a pasture covered with large grassy fields, Eulalias and various wild flowers, you can listen to the songs of croaking frogs and chirping crickets. Watch out for butterflies and other wildlife too at this former re-purposed landfill site located nearby World Cup Stadium.
From certain spots you can also take in the views of North Seoul Tower, Bukhansan Mountain and the Han River.
Address: 478-1, Sangam-dong, Mapo-gu
4. Jungnang Forest Campsite
Jungnang Forest Campsite is known for its luxury camping and cozy leisure areas while comprising of just a modest 47 sites. Each site however comes with a lushy green lawn, table, electricity, showers and a few other facilities giving you the resort feeling.
Popular for school and family picnics the campsite is the result of restoring a once destroyed greenhouse are inside of a development restriction zone. The focus of the project was to minimise the presence of man-made structures while promoting ecological studies and thus given the theme of a "healthy forest".
The grounds also cater for auto camping as well as RVs.
Address: 10 Mangu-ro 87-gil, Mangubon-dong, Jungnang-gu
Website: http://www.joongrangsoop.com/
5. Choansan Camping Area
Choansan Camping Area is built in a 1.62 million square meter forest and makes use of existing sloped terrain for its terraced cabin and log house accommodation. Although camp goers can also opt to bring their own tent if they prefer, but beware this camping area doesn't provide tents or other camping equipment for rental.
Each cabin usually comes with a bunk bed, air-conditioning and heating. You'll also get access to electricity.
Choosing to stay at Choansan Camping Area gives you access to their outdoor spa, pool, playground and footpaths making it a great option for families.
Address: 749-1 Wolgye 2(i)-dong, Nowon-gu
Website: https://www.seoul.go.kr/storyw/campingjang/choan.do
6. Gangdong Greenway Family Campground
Located at the edge of Ilja Mountain, Gangdong Greenway Family Campground offers facilities for both auto camping and those who simply require tent rental. While this site is far smaller than the other camping sites, visitors can enjoy the sight and smell of herbs and summer flowers at the Herb Park and Gildong Ecological Park during the day.
This location is ideal for those seeking pure peace and quiet of the forest, being able to stroll around immersed in nature, and lie down and star gaze at night.
Don't be surprised however, as they do still offer access to some amenities such as water fountains, hot showers, flushable toilets and some access to electrical facilities as well.
Address: 87 Cheonho-daero 206-gil, Dunchon-dong, Gangdong-gu
Website: https://www.gangdong.go.kr/web/eng/contents/gde_030_020_030
For more great ideas be sure to check out our article on the Top 41+ Things to do in Seoul.
Campgrounds Near Seoul
7. Muuido Island
Muuido is a small island just a stone throw away from the coast of Incheon. The island has two beaches as well as a number of delicious seafood restaurants, a zipline and trails for trekking making it a great spot for those who wish to be active and adventurous.
In terms of staying the night, you can either head on over to Hanaggae Beach, Silmi Beach or check out Muuido Island Garden on the east side of the island.
Hanaggae Beach being the biggest beach has more activities and restaurants in close proximity, but therefore can also get more crowded. Silmi on the other hand has much less on the to do front, but that just means you can camp under the pine trees, enjoy the peace and quiet and have a bigger stretch of the beach to yourself.
If you're looking for something with more home comforts, then checkout Muuido Island Garden. Located on the east of the island they offer auto camping, lodge and villa accommodation overlooking the sea. Facing towards Incheon airport, you'll also be able to watch the planes taking off and landing.
Address: Muuido Island Garden Campsite (섬뜰아래 펜션), 229 Daemuui-ro, Yongyu-dong, Jung-gu, Incheon
8. Florence Glamping
Florence Glamping is a little off the beaten track, so it can be a bit difficult to get to without a car. However, once there it offers all the creature comforts as well as the traditional camp feeling. They provide spacious tents, along with all the necessities and equipment for electric cooking and dinning.
Each tent also comes with its own private deck and campfire. Firewood is not included but well worth the added expense for the full marshmallow experience. In addition the site offers underfloor heating for the colder months as well as 5G Free Wifi Zone, electricity, 24 hours hot water, and air conditioning.
There is also access to a swimming pool, hiking / bush walking and even fishing.
Address: 1077-2 Mokdong-ri, Buk-myeon, Gapyeong-gun, Gyeonggi-do
Website: http://campflorence.com/
9. The Dreamping
The Dreamping located in Namyangju is one of the best options in this list. The camp is split into various zones including a picnic zone, tent zone, vintage cabana zone and caravan zone. Therefore its able to satisfy both glampers and campers.
But there is much more on offer. This spot is probably one of the best for the activity seekers among us, having not only access to a swimming pool, but being located right next to Bukhan River. Due its location, guests can partake in a wide range of watersports including surfing, jet skis, water skiing and fishing.
Address: 105-1 Geumnam-ri, Hwado-eup, Namyangju-si, Gyeonggi-do
Website: http://thedreamping.com/
10. Pine4Rest
Pine4Rest should be near the top of your list if you are looking for straight up glamping in Korea. Located in Gapyeong, a mere 1.5 hours from Seoul, the grounds are situated in the middle of a forest full of pine and coniferous trees.
Each tent comes full of luxury with air-conditioning, a bathroom and even a small living room, while spreading a unique and spacious design. Not forgetting they are equipped with everything you should need.
This spot is also another option for activity seekers, with nearby attractions including Nami Island, Garden of the Morning Calm and Petite France just a hop, skip and jump away. Not to mention the possibility of water sports as well.
Address: 645, Dangmokgail-gil, Gapyeong-eup, Gapyeong-gun, Gyeonggi-do
Website: http://pine4rest.com/
11. Sanjeong Lake Glamping
Sanjeong Lake Glamping is pretty much exactly what it says on the tin. Abutting the beautiful lake in Pocheon it makes for a great scenic location.
The most notable attractions in the near vicinity are a waterfall called Nakcheonji Falls, the former villa of North Korea's founding leader Kim Il-Sung, as well as various hiking trails and Jainsa Buddhihst temple located in the nearby Myeongseong Mountain.
The site boasts many modern facilities with fully equipped tents, private decks and stunning views. So if you want to get lost in nature without having to give up on all those comforts you've grown used to then Sanjeong Lake Glamping might just be a great option for you.
Address: 13, Sansanhosu-ro 411beon-gil, Yeongbuk-myeon, Pocheon-si, Gyeonggi-do
Website: http://www.산정호수.com/
More Campsites in South Korea
12. Nakdong River Autocamping – Busan
Nakdong River Autocamping is based inside Samnak Ecological Park in Busan. Its location is 100% of the reason why it makes it on this list. The park is famous for being a migratory habitat for various birds with a large surface area, wildflower complex, marsh and bird feeding stations.
You can explore on foot via one of the ecological walking course or via bicycle following the biking path.
As this site initially opened as the first auto campsite in Busan, it is more set up for RVs and autocamping, but it does have regular campsites as well.
Beware the park can sometimes close during peak migratory seasons in Winter, so be sure to check ahead before departing!
Address: Address: 29-59 Samrak-dong, Sasang-gu, Busan
Website: https://www.nakdongcamping.com/
13. Donggang Riverview Campsite – Jeongseon, Gangwon-do
Donggang Riverview can be found perched up upon higher ground inside the Donggang Observatory Natural Forest. This unique location gives it access to gorgeous views of the accompanying river.
Being rather secluded and requiring a 3 hour drive from Seoul means that inevitably there aren't many facilities, or convenience stores around. However, this can be a good or bad thing depending on how you look at it. The lack of civilisation does allow you to get back in touch with nature and there a plenty worse places you could find yourself then amongst these stunning views.
The basic facilities that are available including the cooking area, restroom and showers are well maintained however. And being right beside the river gives you a great opportunity to try out a variety of different water sports.
Address: 916-212, Donggang-ro, Sindong-eup, Jeongseon-gun, Gangwon-do
Website: https://jsimc.or.kr/layout/basic/page/page1/page09.html
14. BANU – Hongcheon, Gangwon-do
BANU is all about top-notch glamping in the middle of Gangwon-do province's pretty natural environment. Being one of the smallest camps on this list they offer just 8 cabins with 4 different style layouts. However, each cabin is very modern and spacious.
In addition each cabin comes fully furnished, with its own wooden decking, BBQ grill, campfire pit and a well-equipped kitchen ensuring your comfort and convenience. The camp is surrounded by a large open area for children to play and even an eco-friendly vegetable garden.
Nearby activities include Palbongsan Mountain, Gangchon Rail Park and Vivaldi Ski Resort.
Address: 548 Noil-ri, Bukbang-myeon, Hongcheon-gun, Gangwon-do
Website: https://www.banu.co.kr
15. Starlight Sea Glamping Pension – Taean, Chungcheongnam-do
This luxury camping ground in Taean is located right next to Hakampo Beach. You therefore won't be surprised to find out that each tent / cabin comes with incredible sea views.
While the complex itself hosts a very large swimming pool, and kids playground, you can also head over to the beach, do a spot of fishing or go check out the nearby mud flats.
Of course being a glamping site and pension you get access to all the usual creature comforts including private bathroom, BBQ area and a full furnished tent or cabin.
Often boasting a ton of 5 star reviews this place is definitely one to be on your radar.
Address: 21-37, Hakampo-gil, Wonbuk-myeon, Taean-gun, Chungcheongnam-do
Website: http://starocean.kr/
16. Daecheong Lohas Camping Site – Daejeon
A great option if you find yourself in Daejeon. This site is just 30 minutes by car from the main down-town area of the city. Sitting next to a lake, it is also one of the largest campsites in South Korea. It therefore boasts a large range of convenience facilities and programs.
It is split into autocamping, caravan and glamping spaces making it a great option regardless of which form camping in Korea you are looking for. You will find it is also a very spacious site compared to some of the other options on this list.
Of course you'll be pleased to know your accommodation comes with access to air-conditioning, separate restrooms and shower facilities.
In summer a swimming pool is available and there are plenty of choices for cafes and restaurants along the lakeside which leads to the campsite.
Address: 200 (Miho-dong), Daecheong-ro 424beon-gil, Daedeok-gu, Daejeon
Website: https://golohas.kr/
Frequently Asked Questions
Here are some of the most frequently asked questions we usually hear regarding camping and glamping in Korea.
Is camping popular in Korea?
Absolutely! Camping in Korea has grown to become one of the most popular outdoor and recreational activities since late 2000. According to an open survey by Seoul Metropolitan Government, 22.4% of all respondents go camping once a year, while 20.8% have never been but plan to go this year. This has been attributed to the upswing in glamping facilities and the number of camping services and products being made available. In 2020, imports of camping goods increased 105.2% on-year totaling $191 million, according to Korea Trade Statistics Promotion Institute.
Can you camp anywhere in Korea?
While there are restrictions and laws surrounding wild camping, there are still many places where camping is allowed. Just be aware that you may not be able to cook or do other activities depending on the location. Therefore it is best to seek a designated campsite, or at least check with local business owners, public officials and watch what locals are doing to be sure.
Is camping illegal in Korea?
Wild camping is illegal in Korea according to the Natural Parks Act. A fine of 100,000 won is payable if caught camping or cooking in areas not designated as camping sites by local government authorities. You should also pay attention to protected area signs, not use natural water sources for washing, or use cooking equipment in non-designated areas. Due to the increasing number of campers during peak seasons, the government has strengthened regulations for illegal camping.
What is glamour camping?
Glamping or glamour camping is a term used for a more upscale and luxurious camping style. While there is no set requirements of what this entails, it effectively provides more comfort and better facilities than your regular pitch a tent style camping. Amenities typically include hot water, private restrooms, electricity, internet access, air-conditioning, heating and in some cases a kitchen and appliances. Those who go glamping are usually looking to be surrounded by nature without having to do without their home comforts.
What do Koreans eat while camping?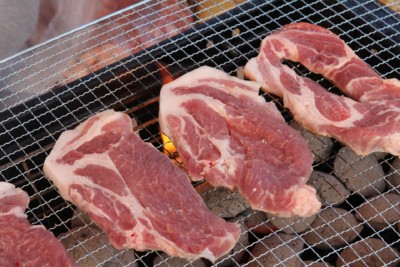 While this varies a lot depending on personal tastes, typical foods include a samgyupsal (grilled pork belly) BBQ with Kimchi, shrimp, mushrooms, lots of garlic, sausages and beer. In addition typical snacks include Roasted Sweet Potato, Ramyeon and an instant Korean curry mix.
Summary: Our Top Picks
So what should you make of the options in this list? Well its hard to pick a best option for everyone. Depending on what you are looking for and who you are traveling with will have a big part to play in which site you'll want to choose.
Its also important to note that depending on the time of year certain options might make more sense than others. For example, choosing a secluded camp ground or a location near a beach during the Winter months might not be the best idea.
However, to try and help point you in the right direction, here's our top picks for the following categories:
So where are you going camping in Korea? Let us know in the comments below.