Vibrant colors, the sweet scent of ginseng, colorful hanbok, and centuries-old temples – Welcome to Seoul! Our home, the captial of South Korea is an incredibly rich city to explore.
Immerse yourself in the local culture, learn how to make kimchi like a local, and feel your stress melt away as you receive a full-body scrub at a jimjilbang. From hiking and taking in the jaw-dropping panoramas of Bukhansan National Park to navigating the cobblestone streets of the Bukchon Hanok Village – there are countless things to do in Seoul!
In this post we're going to let you in on exactly what to do in Seoul. From the best and most unique places to visit, to the top sightseeing spots, famous landmarks, delicious foods to try and shows to watch. Whether you're travelling alone or with kids, this guide is for you!
1. Experience the tranquility and splendor of Changdeokgung Palace
One of the top-rated things to do in Seoul, Changdeokgung is the most beautiful of the five iconic Joseon Dynasty palaces, dating all the way back to 1405. Locals and travelers love coming here because the palace is located in the heart of a peaceful natural park where it seamlessly blends with the surroundings, giving it an almost magical allure. Changdeokgung, also known as the "East Palace," is a protected UNESCO World Heritage site.
You will enter through Donhwamun Gate – the epic three-door entrance, continuing to Huijeongdang Hall which was the emperor's royal reception room where east architectural influences meet Western modernity. You will be pleasantly surprised by the Huwon Secret Garden that lies just behind the palace. Take a stroll at sunset and snap some photos of the serene pond and trees, most of which are over 300-years-old!
Address: 99 Yulgok-ro, Jongno-gu, Seoul.
Subway: Anguk Station, Exit 3.
2. Shop for traditional goods & gifts at Namdaemun Market
What better way to truly get to know a culture than through its crafts and street food? Namdaemun Market is the largest open-air street market in the city and one of the most beloved Seoul attractions. Here, you will navigate an organized maze of colorful stalls, smelling the delicious scent of ginseng and hotteok (Korean-style pancake), browsing through beautiful handmade shoes and clothing.
A visit to Namdaemun Market is an invitation to buy gifts and souvenirs for your friends back home, and feel free to negotiate on the price because the competition is fierce and you can use that to your advantage.
Amid the 10,000 stores at Namdaemun Market, you will spot Hanbok – traditional Korean clothing with gorgeous ornaments. If you'd like to take home something truly local, get yourself one of those. Make sure to explore the flavors of the market by trying eomuk – fried fish tortillas with a stew, mandu – rice dumplings, and tteokbokki – rice cakes with Gochujang (red pepper sauce).
Address: 21, Namdaemunsijang 4-gil, Jung-gu, Seoul.
Subway: Hoehyeon Station, Exit 5.
3. Discover Gyeongbokgung Palace & watch the iconic Changing of the Guards Ceremony
The largest of the five grand palaces that grace the legacy of the Joseon Dynasty, Gyeongbokgung Palace is without a doubt one of the top things to do in Seoul. The palace, which was once home to the emperor and to many government offices, was destroyed many times over the centuries, first during the Imjin War in 1598, and then in the 20th century by imperial Japan. Gyeongbokgung, however, has managed to persevere and today stands stronger than ever. You will have the chance to explore the premises, including the lavish Throne Hall with its ornate ceiling and Gyeonghoeru Pavilion which is nestled amid beautiful trees and a glassy lake.
The square pillars that you'll see outside represent the Yin and Yang and unite in perfect harmony. Next, experience the unique Changing of the Guards Ceremony! The ritual began during the Joseon era and was later recreated in 1996 to become one of the most beloved Seoul attractions. You will see the soldiers, also referred to as "Wanggung Sumunjang" march in bright blue and yellow uniforms, carrying traditional weapons, and performing traditional music.
You can see the ceremony twice a day, either at 10 AM or 2 PM. We recommend that you watch from outside the gate which gives you the best opportunity to take photos.
Address: 161 Sajik-ro, Jongno-gu, Seoul.
Subway: Gyeongbokgung Station, Exit 5.
4. Discover the treasures of Insadong-gil
An incredibly vibrant neighborhood of the Korean capital, Insadong is one of the most culturally-immersive Seoul attractions to experience. Located in the very heart of the city, Insadong is made up of narrow streets and alleys where you can indulge in quality shopping.
Insadong-gil (where gil translates to "street") is the best place to find unique souvenirs and crafts made of local materials. At 700 meters long, the street is lined by cafes, wooden tea houses, small shops, and more than 100 galleries!
If you enjoy crafts, we recommend that you get yourself some calligraphy materials, and hanji (traditional paper). Insadong-gil is a fully pedestrian area blocked off for car traffic on Saturday from 2 PM to 10 PM, and Sunday 10 AM to 10 PM which allows you to explore one of the most popular Seoul things to do, stress-free.
Address: 62, Insadong-gil, Jongno-gu, Seoul.
Subway: Anguk Station, Exit 6.
5. Marvel at the golden Buddha statues at Jogyesa
Jogyesa temple is on every traveler's Seoul bucket list as this is the oldest and most elaborate temple of the Jogye Order. The Buddhist temple is decorated with bright lanterns that create a joyful atmosphere and stand out against the background of its maroon ornate walls. The temple serves as an oasis of peace and tranquility amid the busy city center. Here, you will see a Baeksong lacebark pine tree that's over 500 years old!
Entering into Daeungjeon (the main Dharma Hall), you will be impressed by the three golden statues of Amitabha Buddha, Shakyamuni Buddha, and Bhaisajya Buddha. At almost five meters tall, each of these sculptures is made of solid gold and draws visitors from all over the world, as they are said to bring good luck. We recommend that you visit during the celebrations for Buddha's birthday which take place during the month of May.
Address: 55 Ujeongguk-ro, Jongno-gu, Seoul.
Subway: Anguk Station, Exit 6 / Jonggak Station, Exit 2.
---
Check out our Seoul City Tour (#1 most popular tour in Seoul) for the best way to see Changdeok Palace, Namdaemun Market, Gyeongbok Palace, Insadong-gil, Jogyesa and more!
---
6. Reconnect with nature at Bukhansan National Park
Want to escape the city and immerse yourself in the beauty of the outdoors? Bukhansan National Park is by far the best mountain getaway where you can enjoy stunning views, crisp, clean air, and stunning gorges. Known as "Samgaksan" (Triangle Mountain), the park is home to over 1,300 plant and animal species that you will see across its three peaks – Baegunbong, Insubong, and Mangyeongbong.
When it comes to hiking, there is something for enthusiasts of every level here! You can traverse the spacious valleys, relax along fresh, clear streams, and challenge yourself with an uphill climb. You will have plenty of opportunities to take beautiful photos of the breathtaking panoramas the park offers, so make sure to have your camera handy!
Address: 6-21 Bogungmun-ro 34-gil, Seongbuk-gu, Seoul.
Subway: Gupabal Station, Exit 1. Then take Bus No. 704 or 34 to Bukhansanseong (Fortress).
7. Treat yourself to a wellness day at a traditional Jimjilbang (Korean Bath House)
One of the best things to do in Seoul to pamper yourself is to visit a jimjilbang – a Korean bath house! Locals highly value their health and wellness which is why they frequent bathhouses where you can enjoy a series of relaxing procedures such as a full-body scrub and an energizing sauna session.
If you'd like to try an ultra-modern spa that offers the entire array of traditional services, visit The Spa in Garden 5, which sits on the 10th floor of the shopping center. Here you will find luxury lounge rooms, a library, an arcade, and yoga classes in addition to the spa facilities.
The spa also serves shikhye – a sweet rice drink that is frequently served at bathhouses. The Spa will invite you to relax in its cypress room and chimney steam room which uses pine trees from the Yangpyeong region. Many jimjilbang also offer an overnight stay.
Address: The Spa 10 Chungmin-ro, Songpa-gu, Seoul.
Subway: Jangji, Exit 4.
---
Enjoy a guided hike up a stunning city mountain trail, see gorgeous views overlooking Seoul and relax in a traditional style sauna with our popular Bukhansan tour + Sauna Package.
---
8. Indulge in a once-in-a-lifetime visit to the Korean Demilitarized Zone
You can't come to Seoul and not pay a visit to the DMZ. The Demilitarized Zone is a neutral area between North and South Korea where military forces are strategically located to maintain peace and stability. As the most heavily fortified border on the planet, this unique spot has been ranked #1 among the things to do in Korea.
When visiting the DMZ, you will have a chance to take a glimpse at the mysterious territory of our norther neighbour on a clear day from Dorasan Observatory. The key features to see here include Imjingak park which was built as a safe space where citizens of the two countries could mourn the loss of their loved ones in the military. The Freedom Bridge via which South Koreans returned home from the battle is not to be missed! The Third Tunnel of Aggression which was built by North Korea to try and infiltrate the South is also an eye opening experience. Your visit to the DMZ will surely be one that stirs curiosity and a deep appreciation for peace.
As this is a military controlled area, you will need to take a guided tour with a licensed and approved guide. Half day tours can easily be booked a day or 2 before, but tours visiting the JSA (Joint Security Area) need to be booked a minimum of 72 hours in advance. This is required in order to comply with UNC (United Nations Command). However, we recommend to book as soon as you arrive in Korea to avoid disappointment as the UNC limits daily visitors and it is extremely popular.
Address: 369 Tongiljeonmangdae-ro, Hyeonnae-myeon, Goseong-gun, Gangwon-do.
Best DMZ Half Day Tour
---
Don't miss out on the #1 Experience – Only available in Korea. See all our DMZ tours from Seoul.
---
9. Taste the famous Ginseng Chicken soup at Tosokchon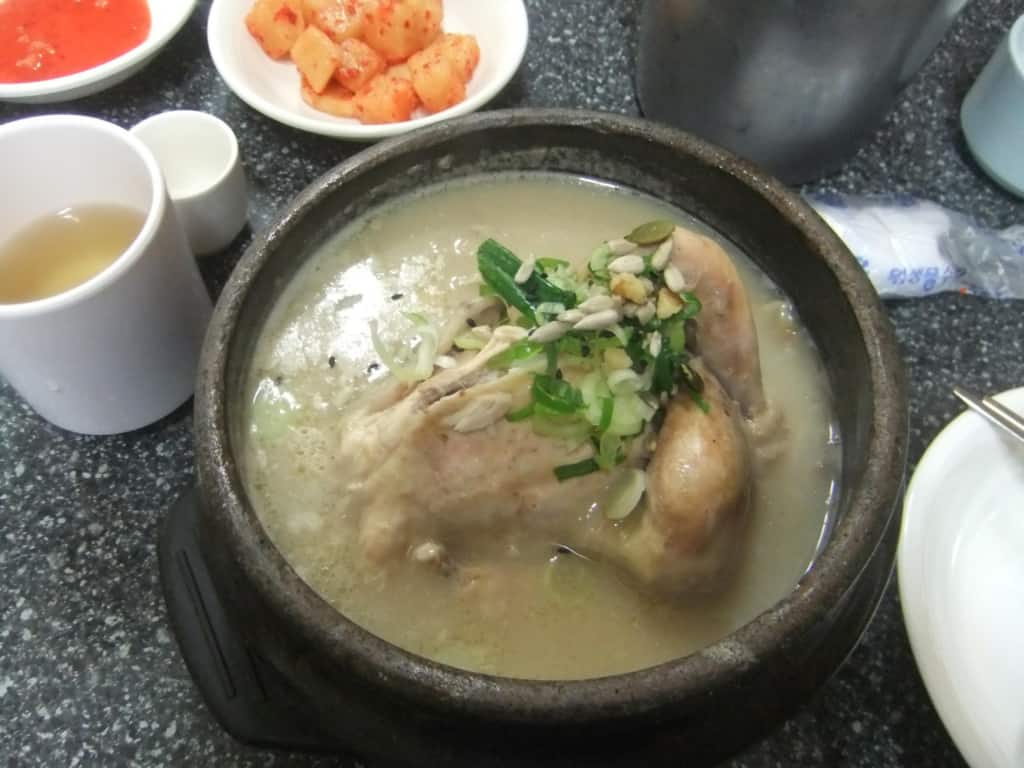 Koreans are famous for being foodies and trying the famous soup at Tsokchon is one of the most delightful Seoul things to do! The restaurant was frequented by former President Roh Moo-hyun which is how it gained popularity.
The soup, also known as Samgyetang, consists of Tojongdak (Korean chicken) and chestnuts as a base. The rest of the ingredients include ginseng which has been aged for four years, sunflower and pumpkin seeds, pine nuts, black sesame, perilla seeds, and adlay (a gluten-free grain).
To enhance the flavor, the chef adds garlic, ginger and the jujube fruit which is famous for its healing properties. The restaurant itself is simple in design but very cozy and offers only five things on the entire menu. If you're looking for an appetizer, we recommend the kimchi and fermented melon! Tsokchon is open from 10 AM to 10 PM. It's best that you go in an off-peak hour such as the afternoon to avoid long queues.
Address: 5, Jahamun-ro 5-gil, Jongno-gu, Seoul.
Subway: Gyeongbokgung Station, Exit 5.
10. Take in the unobstructed city views at Naksan Park
If you're wondering where to go in Seoul to get amazing panoramic views without the crowds, go to Naksan Park! The name of the area translates as "camel mountain" because of the way the path winds in the shape of a hump.
The mountain is made entirely of granite and is a wonderful place to go for a walk and take photos. Back in the times of the Joseon Dynasty, Naksan served as a protection of the city from invasion. Today, the renovated park is simply a tranquil spot to escape the bustle of Seoul.
In 2015, Naksan Park was voted the top night view attraction in Seoul! At Naksan Park you will find an exhibition hall, a pavilion to hang out at, basketball and badminton courts, and many lookout points. You can arrive by subway and hike up, though the hike is quite easy being only 450 meters long.
Address: 41, Naksan-gil, Jongno-gu, Seoul.
Subway: Dongaemun, Exit 1.
11. Learn to make Kimchi at a Kimchi making class in Seoul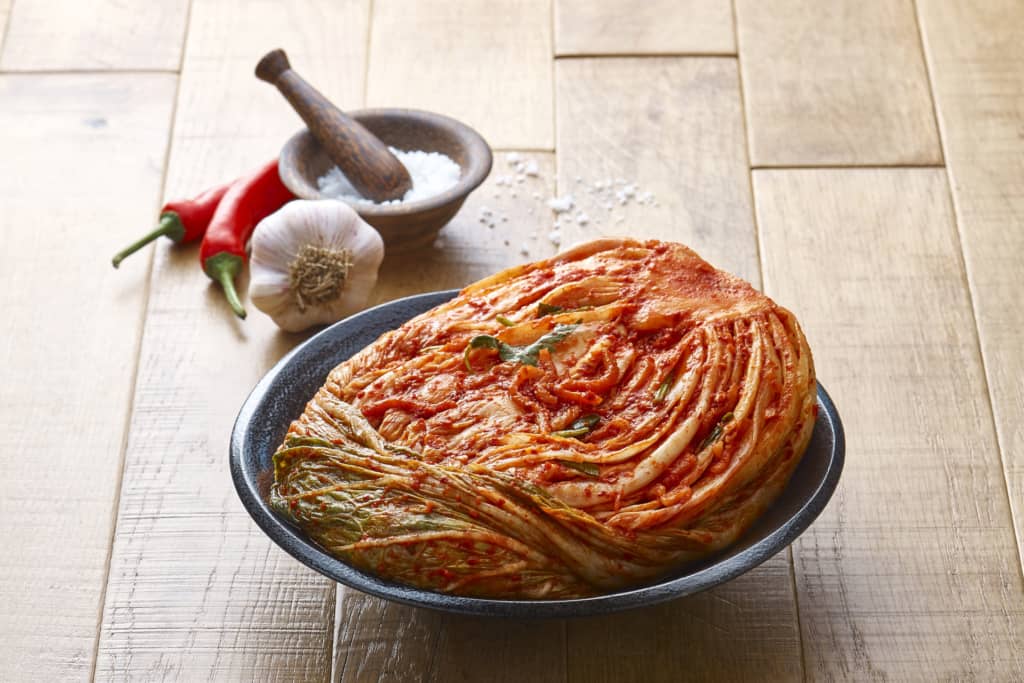 Kimchi lies at the heart of Korean cuisine and knowing how to make it will truly be a unique cultural experience! One of the most delicious things to do in Seoul is participating in a kimchi-making workshop. It takes you through the exact process of preparing the fermented food and teaches you about the ingredients.
You will be working with a variety of exciting flavors such as ginger, napa cabbage, and radish, as well as burdock roots, cress, celery, and chives. You'll mix and match your spices that include gochugaru (chilli), scallions, and myeolchi-jeot (salted anchovies). Kimchi has amazing probiotic qualities which is why it has risen to worldwide popularity. You will have the chance to taste your creation and later on, replicate it at home for your friends!
12. Dive into history at the War Memorial of Korea
If you'd like to explore our rich history through the years, visit the War Memorial of Korea which is one of the most extensive things to do in Seoul for war and history enthusiasts.
Here, you will have the chance to see over 10,000 artifacts! The museum is divided into six halls indoors each of which has a separate theme such as the Expeditionary Forces Room, the War History Room, the Large Machinery Room, the Development Hall, and more. There are a few art pieces to notice here such as the Clock Tower of Peace and the Statue of Two Brothers.
You will find outdoor exhibitions as well where you will be fascinated by the large-scale weapons on display! In order to make your visit even more fun, you can participate in one of the workshops that teach you about military music, honor guard events, or sign up for the drawing competition which is an esteemed military art. The museum is appropriate both for adults and kids, so feel free to visit with your whole family.
Address: 29, Itaewon-ro, Yongsan-gu, Seoul.
Subway: Samgakji Station, Exit 11 & 12.
13. Be mesmerized by a live Nanta performance
One of the most popular things to do in Seoul at night, the Nanta performance will have you following every beat of the skilled performers. Watch as you witness a flurry of kitchen knives and spoons, a large dose of comedy, and music! It's not uncommon to see the chefs breathe fire, jump out of barrels, and throw cabbage around in this action-packed show!
The Nanta show has been seen by more than 8 million people to date and has climbed up to the top things to do in Seoul list, so while you're in town, you should definitely experience it. Be sure to take a photo with the amazing actors after the performance is done as a nice souvenir to remember the experience.
Address: 26, Myeongdong-gil, Jung-gu, Seoul.
Subway: Myeongdong, Exit 6.
---
For the best deal take a look at our super popular Seoul Palace tour which includes a full day of sightseeing, your Nanta ticket and drop off at the theater.
---
14. Venture out to Hongdae to enjoy fine illusions and karaoke
Hongdae is a really fun neighborhood of Seoul known for its bustling nightlife.
Are you ready to challenge everything you think is real and possible? Then add Hongae's Trick Eye Museum to your "Seoul what to do" list! The Trick Eye Museum is an optical illusion museum where you can interact with paintings! The museum uses Augmented Reality to help you step into another dimension! This will be the perfect place to take quirky photos to later post on your social media.
While in Hongdae, don't miss the chance to participate in another beloved Korean tradition – karaoke. Show off your talent (or lack thereof), and have a fun night out with your friends at a noraebang (Korean karaoke room). You will likely leave your shoes at the entrance, according to tradition, and proceed to the flashy room. In some cases, you will be given costumes to change into for an extra K-Pop experience! Each room is equipped with giant screens, soundproof walls, and disco lights. In terms of their playlist, you can expect both K-Pop hits as well as music from the '70s, '80s, and '90s in English, so there will be something for everyone. This will truly be an experience you will remember forever!
Address: 110 Sejong-daero, Jung-gu, Seoul.
Subway: Hongik University, Exit 9.
15. Travel back in time and live like a villager at the Bukchon Hanok Village
Have you always wondered what it would be like to live in the old Korea? Head over to the Bukchon Hanok Village to find out! The area nestled between Gyeongbok Palace, Changdeok Palace, and the Jongmyo Royal Shrine is a settlement that reflects life from more than 600 years ago!
Here, you can stroll along narrow streets and see hanok – traditional Korean homes. Make sure to allocate at least two hours to tour the village fully, without rushing.
Foreign travelers have voted the Bukchon Hanok Village in the top five of their favorite things to do in Seoul due to the authentic atmosphere and plenty to see such as the Embroidery Museum, the Bukchon Asian Arts Museum, the Owl Museum, and more.
Make sure to have your camera charged and ready because you will have plenty of photo opportunities in the nooks and corners of the village where the old architecture serves as a gorgeous backdrop.
Address: 37, Gyedong-gil, Jongno-gu, Seoul.
Subway: Anguk Station, Exit 3.
16. Indulge in the stunning views at Inwangsan Mountain
Inwangsan has plenty to offer travelers – from stunning natural trails along the granite peaks to the country's most important Shamanistic shrine – you will enjoy discovering Korea's sights in a beautiful outdoor setting.
As Inwangsan lies in central Seoul, it opens up to a great view of Gyeongbokgung Palace, Namsan Tower, as well as the rest of the city's elevated landmarks.
The hike is quite easy which makes it a great option for anybody, regardless of physical fitness. We recommend that you take the trail that runs from Sajik Tunnel to Buam-dong, following Hanyangdoseong, the city wall, to eventually reach Inwangsan. This path will reward you with the best views. Inhale the fresh air and take a break at one of the many rest stops along the way.
Address: 110-080 20 Tongil-ro 18ga-gil, Jongno-gu, Seoul.
Subway: Dongnimmun Station, exits 1 and 3.
17. Taste the flavors of Myeongdong – the ultimate foodie neighborhood
Myeongdong is Seoul's largest shopping district famous for its colors, lights, and buzzing life. This also happens to be a major hotspot for those who enjoy food. You can't come to Seoul and not sample the city's quirky and delicious street food.
Explore the small pojangmacha (food stalls) and try different snacks such as sundae, dakkochi (chicken and scallion skewers), and gimbap (white rice rolls).
Have you ever seen the iconic 32-centimeter ice cream cone of soft serve? You can find it right here! The ice cream comes in different flavors and colors such as matcha, chocolate, strawberry, and more! A large number of restaurants in the neighborhood specialize in dongaseu (pork cutlet) and kalguksu (noodle soup), so make sure to save room for those too! A visit here is most definitely one of the most delicious things to do in Seoul!
Address: 66, Eulji-ro, Jung-gu, Seoul.
Subway: Myeong-dong Station, Exits 5, 6, 7 & 8.
18. Play at Lotte World – the happiest place in Seoul
Do you love amusement parks? Then come visit Lotte World – the largest indoor amusement park in the world! Seoul's very own version of Disneyland, the park invites you to try dozens of different rides, an ice rink, and often hosts colorful parades. You can also find a folk museum if you like to include a cultural element in your visit, a lake, and department stores. This is the perfect place for kids and adults who want to reconnect with their inner child.
Lotte World has two distinct areas – Lotte World Adventure (indoors) and Magic Island (outdoors), which makes it a suitable destination regardless of the weather. At Lotte World Adventure, you'll have plenty of choices for entertainment such as watching the laser shows, tasting international snacks, and exploring the miniature villages.
Address: 240, Olympic-ro, Songpa-gu, Seoul.
Subway: Jamsil Station, Exit 4.
19. Create your very own art at the Seoul Alive Illusion Museum
Wondering where to visit in Seoul for creative inspiration? The Alive Illusion Museum in Insadong distorts reality via a special 4D optical illusion and lets you create your own artwork!
You can jump "inside" your favorite Playstation game or movie by simply standing in front of the camera. Bend and twist your body however you like and pair it up with a funny facial expression for best results!
Travel back in time at the Insadong Photo Studio and jump into Super Mario at the Game Village. All you need is your creativity without any equipment! The museum is very extensive and has more than 100 exhibits on display, so make sure you allocate enough time to go through it all.
Address: Insadong street 12, Jongno-gu, Seoul.
Subway: Jonggak Station, Exit 3.
20. Have the best shopping spree of your life at Dongdaemun
Do you love to shop? Then you're in luck! One of the favorite things to do in Seoul for those who like to collect souvenirs and clothes from abroad, Dongdaemun is a lively neighborhood that offers all-night shopping!
Who wants to sleep when you can be out exploring various goods and indulging in retail therapy? The shopping district really comes alive between the hours of 10 PM to 5 AM.
You will find two areas – one for retail and the other for wholesale shopping. While there are many smaller shops, there are a few larger malls as well that include Doota, Good Morning City, and Migliore.
We recommend that you bring both cash and card in order to be fully prepared.
Address: 289-3 Jongno 6-ga, Jongno-gu, Seoul.
Subway: Dongdaemun Station, Exit 8 / Dongdaemun History and Culture Park, Exit 1 or 10-14.
21. See what tower-tourism is all about at Namsan Tower
Namsan Tower is a pioneer in the tower-tourism trend of the capital. Located at Namsan Mountain, at 480 meters above sea level, the top of the tower pierces the sky and can be easily seen from anywhere in Seoul. Especially at night when its beautiful, glowing lights are on.
The structure was first built for the purpose of transmitting waves for radio and TV programs back in 1969 but quickly became a cultural staple of Seoul.
Head up to the observatory for some stunning views and photo opportunities. This is an especially romantic spot to see the sunset and a very pleasant area at night, as you will be looking out at the sea of twinkling lights down below. If you want to switch up your mode of transportation, take the cable car up to the tower for an extra fun experience!
Address: 105, Namsangongwon-gil, Yongsan-gu, Seoul.
Subway: Myeong-dong Station, Exit 3.
22. Flow along the city's favorite waterway – Cheonggyecheon Stream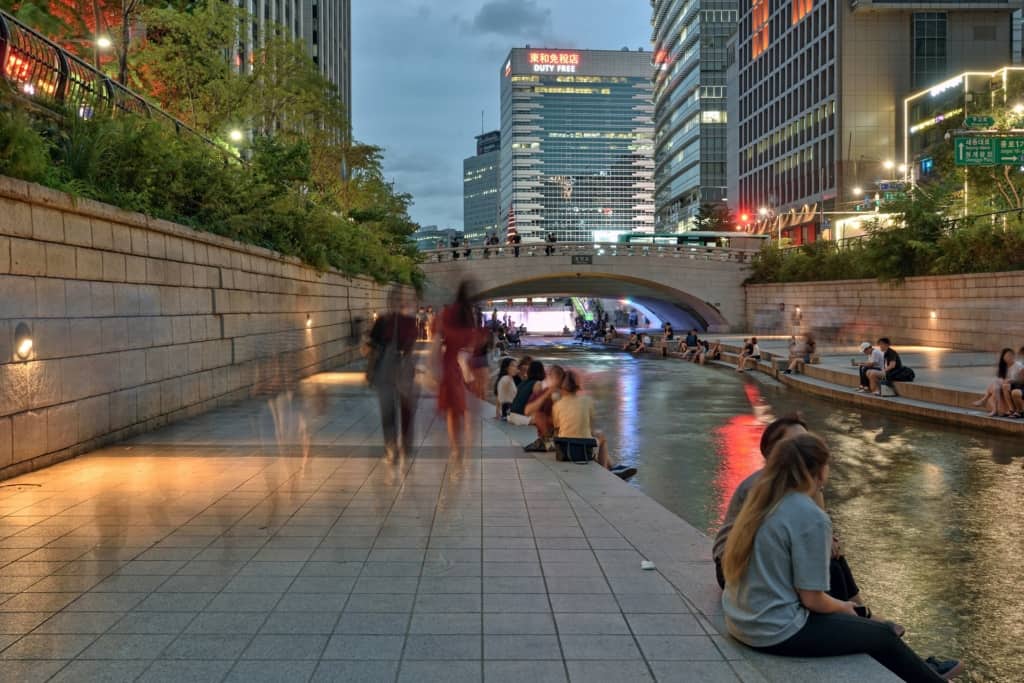 There are plenty of ways to explore Seoul apart from walking and taking the bus. Pop over to Cheonggyecheon Stream which is an urban stream that runs for 11 kilometers in the heart of downtown. The stream was built during the Joseon Dynasty (1300 – 1900) and then revived in 2003 as an urban renewal project.
You can begin at Cheonggye Plaza which is a well-known arts venue and head in the direction of Hangang River, passing 22 bridges with various attractions along the way! The stream is very well-lit at night so you can make this an evening expedition if you enjoy a nice walk after dinner. The stream is also a fantastic place to go jogging and get your exercise on!
Address: 37 Mugyo-ro, Jongno-gu, Seoul.
Subway: City Hall Station, Exit 4.
---
For the most convenient way to explore the city at night, shop Dongdaemun Market, see the beautiful evening lights from Namsan Tower and stroll along Cheonggyecheon Stream check out our Seoul City Night tour.
---
23. Tour the headquarters of SM Town and learn all about K-Pop
SM Entertainment is Korea's largest entertainment company that is responsible for the rise of many K-Pop stars and programs. You can visit their headquarters which is a six-floor culture complex in Coex Artium at Coex Mall.
K-Pop fans will absolutely adore seeing all the paraphernalia associated with their favorite shows and actors, such as costumes, props, and accessories. If you are not familiar with the genre yet, pop into the museum and learn how it all began.
At the museum, you will see a few different exhibitions – SM Archive, the Special Exhibition, and the Artist Gallery. You can buy souvenirs and posters for the K-Pop fan in your life from the second-floor gift shop. The venue is also the home to SM Media which has the biggest display in all of Korea at the size of four basketball courts! The area is known as the "Times Square" of Korea and will keep you entertained day or night.
Address: 513, Yeongdong-daero, Gangnam-gu, Seoul.
Subway: Samsung Station Exits 5 and 6.
24. Gangnam Station – see the birthplace of the global hit song
There isn't a person in the world who has not heard the song "Gangnam Style" by the Korean artist Psy. The hit became ultra-popular in 2012 and topped the charts for weeks, from Seoul to New York City. Gangnam is an upscale neighborhood of the city which is a great place for you to explore at night.
Have a wander around the subway station at night and you will see this is a very popular local gathering spot where people meet and hang out.
We recommend that you check out Gangnam Subway Station exits 10 and 11 as well as City Theater that's just around the corner. Gangnam is also the home to many luxury malls, movie theaters, and bookstores, and an underground shopping area making it a cultural and trendy hub in the city.
Address: Yeoksam 1-dong, Gangnam-gu, Seoul.
Subway: Gangnam Subway Station Exits 10 & 11.
25. Sail around the city on a Han River Cruise
Looking for scenic things to do in Seoul? Then you'll enjoy going on a cruise of the Han River! The Han River peacefully flows around the capital and is a popular Seoul tourist attraction.
The cruise began operating back in 1986 and has enjoyed great popularity due to the great service and beautiful views visitors enjoy on board.
The cruise runs between east and west Seoul, covering all the important landmarks along the way. We recommend that you go at sunset for an extra special ambience.
There are various themed cruises you can choose from that include live music and a buffet both for lunch and dinner. Cruising the Han River at night is a treat as well, as you will be passing under the Banpo Bridge and enjoying a Moonlight Rainbow Fountain Show which is one of the most magical things to do in Seoul after dark.
Address: 290 Yeouidong-ro, Yeongdeungpo-gu, Seoul.
Subway: Yeouinaru Station, Exit 3.
Best Han River Cruise
26. Deoksugung Palace – a traditional gem amid modern-style urban architecture
Deoksungung Palace stands out against the modern, Western-style architectural tapestry of Seoul with its beautiful stone-wall road and traditional design. Its name translates to "palace of virtuous longevity," as the palace served as the royal residence of Gwanghaegun we he ascended to the throne in the early 17th century.
Entering through Daehanmun Gate, you will see the tranquil Geumcheon Stream over which the king's carriage used to pass. Next, you will see Jeonggwanheon Hall which was the first Western-style building constructed on-site in 1990, where the king liked to relax and have coffee. A curious fact about this hall is that the back of it had secret passages dug up that went to the Russian Emissary. Those still exist today! Jeonggwanheon Hall was also used as a political arena for important diplomatic talks.
You can visit the palace and discover its secrets every day from 9 AM to 9 PM.
Address: 99, Sejong-daero, Jung-gu, Seoul.
Subway: City Hall Station, Exit 1, 2 or 3.
27. Go to Yeouido Hangang Park for a lovely picnic
If you'd like to take a break from the crowded Seoul tourist attractions, then go get a breath of fresh air at Yeouido Hangang Park. The tranquil park is a perfect spot to have a picnic or go for a bike ride along the Han River.
There are two bike rental kiosks, on either side of Yeouinaru Station. You can pay a set fee for the first hour and then an additional small fee for every 15 mins after that.
If you are in Seoul during the spring, you'll get to enjoy the lovely cherry blossoms! The cherry trees line the entire road from Yeouidong-ro to Yeouiseo-ro, which will be the most beautiful urban walk you ever go on. The park is a preferred spot not just for visitors but for many locals who gather here to spend quality time with each other.
Address: 330, Yeouidong-ro, Yeongdeungpo-gu, Seoul.
Subway: Yeouinaru Station, Exit 2, 3.
28. Wander around Gwangjang Market Where the Locals Choose to Eat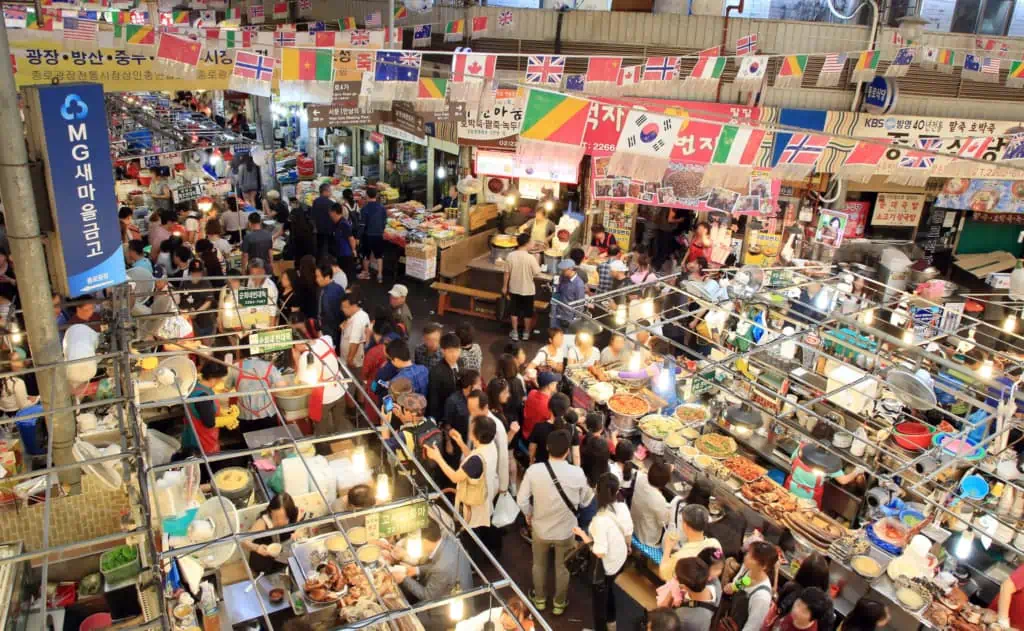 Whenever you're exploring a new city, go eat where the locals do! This is the fastest and best way to get to know the heart of that country's culture. For Seoul, that would be Gwangjang Market.
One of the largest markets in Korea, this lively place has been around for more than 100 years! The market really gained popularity when it was featured on the local show "Running Man."
When visiting, we recommend that you try many of the street food delicacies such as Bindaetteok (mung bean pancakes), Boribap (a rice and barley mix with vegetables), Kimbap (sweet rolls), Kalguksu (Korean soup made of knife-cut noodles), Eomukguk (fish cake soup). The beauty of street food is that you will get to see how everything is made by the locals, right on the spot! You might learn a trick or two to utilize in your kitchen.
Address: 88 Changgyeonggung-ro, Jongno-gu, Seoul.
Subway: Jongno 5(o)-ga Station, Exit 7, 8.
29. Get an insider look at the local seafood trade at Noryangjin Fish Market
A major stopping point in the popular Seoul tourist attractions, Noryangjin Fish Market is the largest (at 6,000 square meters) and the most exciting place to buy seafood.
Vibrant with colors and busy vendors going about their work, the market is open 24 hours, so you can drop by anytime you like. You will see over 700 vendors here, selling anything from clams, octopus, salmon, prawns, halibut, mackerel, tuna, blue crab, and more. The market is undoubtedly one of the top three Seoul tourist attractions for foodies!
Even if you don't end up purchasing a big old lobster, you'll enjoy the cultural experience of being on-site and listen to the sounds of the market, especially in the early morning when the fresh goods arrive directly from the harbor. If you'd like to see Noryangjin Fish Market at its busiest, we recommend that you arrive between 4 AM and 6 AM.
Address: 674 Nodeul-ro, Noryangjin-dong, Dongjak-gu, Seoul.
Subway: Noryangjin Station, Exit 7.
---
Get local insight as you wonder around two of Seoul's top food markets and more on our Seoul Market Full Day tour.
---
30. Visit Seoul City Wall – the capital's outer protective layer
Originally constructed in 1396 as a way to protect the city from invasion, the City Wall is one of the most popular Seoul attractions and things to do in Seoul outside.
If you enjoy history and architecture, you should surely see it in person! The wall surrounds the city entirely, stretching for 18.6 kilometers starting at Bugaksan Mountain through Naksan and Namsan Mountain, reaching Inwangsan. At 8 meters high, the structure is quite imposing.
What's interesting to see around the wall are its six gates. Originally, there were eight but two were destroyed. Today, you can see what's known as "The Four Great Gates" by the names of Sukjeongmun, Heunginjimun, Sungnyemun, and Dongeuimun to the west and the "Four Minor Gates" to the southwest.
Exploring the wall is a nice, long stroll, so if you'd like to get your exercise on in a beautiful outdoor setting, then this one is for you! We recommend that you continue walking up the path in order to get better views!
Address: 283 Yulgok-ro, Jongno-gu, Seoul.
Subway: Dongdaemun Station, Exits 1, 10.
31. Gyeongui Line Forest Park – a nature escape in the middle of the urban jungle
A hundred years ago, Seoul had a railway line that was called "Gyeongui." After some restructuring was made and the line was converted to an underground railway, a park was built on top of it. Today, Gyeongui Line Forest Park is a beautiful nature sanctuary you can enjoy as a break from the busy city.
Locals like to hang out at the park, which gets busy after 7 PM. You'll see people jogging or having a picnic. As a tourist, you will have a chance to mingle with the locals at the park and see Korean culture first-hand. Many locals enjoy what's called a "gilmak" which literally translates as "drinking outside." As the park is prime real estate in the city, the two neighborhoods around it are quite trendy. You can venture out to Hongdae and Yeonnam-dong for a nice cup of coffee or to grab a snack from one of the food trucks.
Address: 27 Susaek-ro, Seodaemun-gu.
Subway: Hongdae Station, Exit 3.
32. Indulge in world-class cuisine and performance at Korea House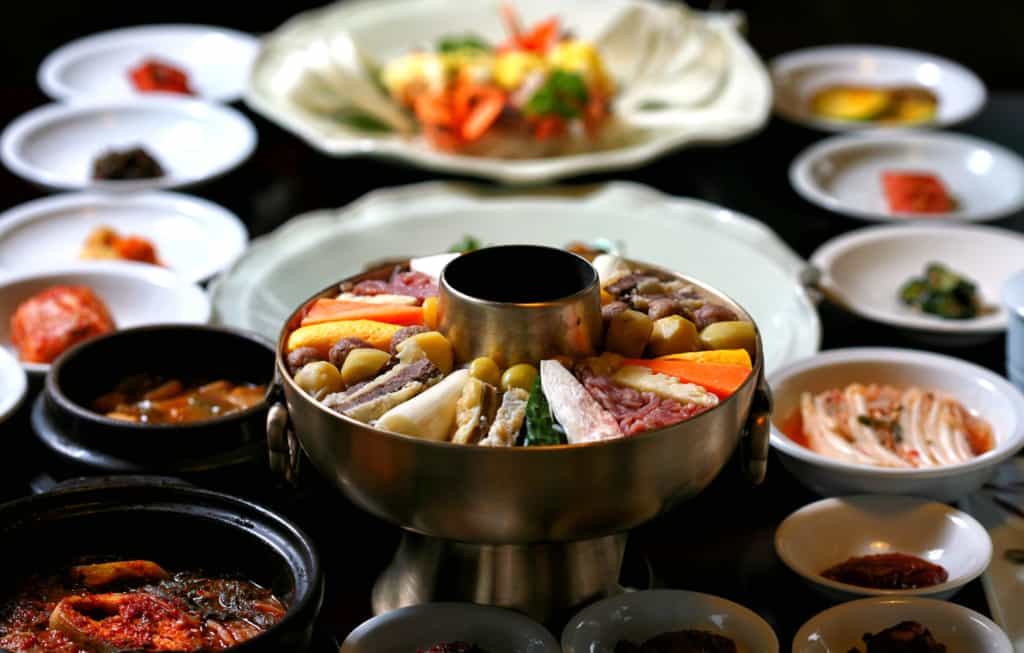 Korea House has become somewhat of an institution when it comes to performance arts in Seoul. Offering a gourmet dinner and a show, this is one of the best Seoul things to do if you'd like to get acquainted with the local culture and customs.
The performance includes elegant choreography, dance, and music. Sometimes, they will call for the audience to participate at random, so you can very well end up being a part of the show! After the show, you will have the chance to take photos with the actors as a fun memory, so make sure to bring a camera!
The meal Korea House serves is prepared by hand by culinary masters using the finest ingredients. Some of the dishes you can look forward to may include gujeolham – a platter of traditional delicacies to share, grilled abalone and eel, royal grilled minced beef, bibimbap and spring vegetables, braised halibut, and more!
We recommend to come dressed up as this is a fine dining restaurant. Plus its always fun to get dressed up and look the part when having a night out on town.
33. Bongeunsa Temple – a holy spot in the heart of trendy Gangnam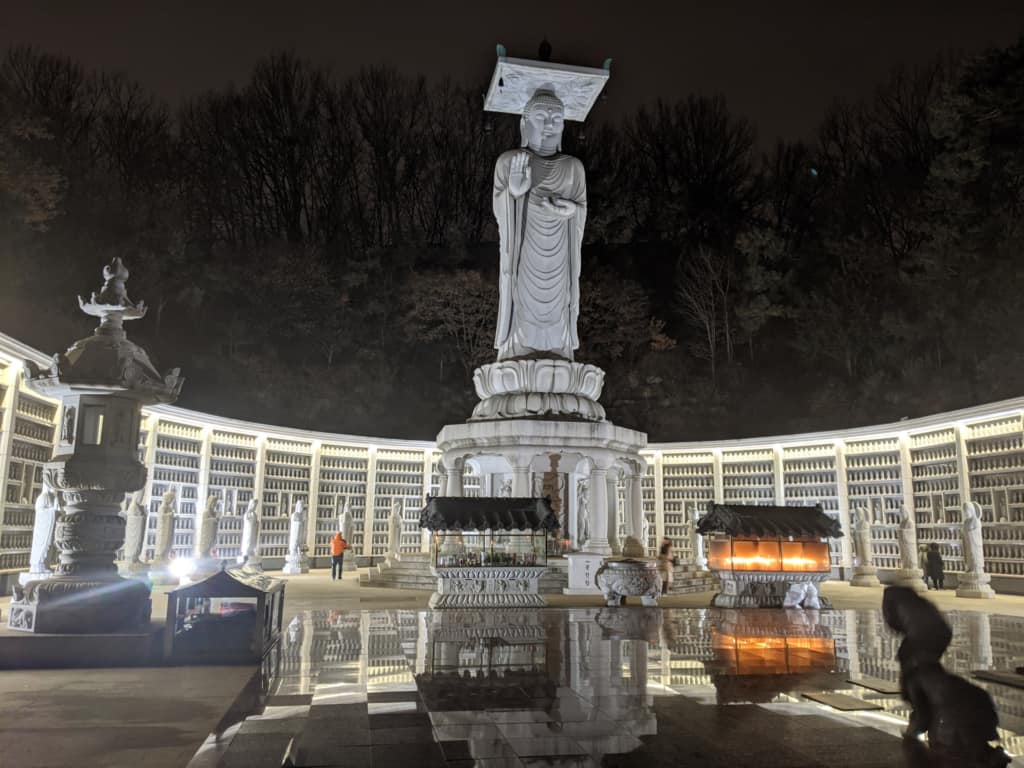 Besides being the center of popular culture and fashion trends, Gangnam has plenty of cultural heritage for you to see, too. Bongeunsa Temple is the most famous Buddhist temple in the area. Here, you can find 3,479 Buddhist scriptures!
On every ninth day of the eighth month of the lunar calendar, there is a very important ceremony that takes place here. The ceremony called Jeongdaebulsa is a procession of monks who carry the scriptures on their heads and recite the Buddhist scriptures known as "Beopseongge."
The temple is quite large in size and is a very serene spot despite being in the bustling center of Seoul. If you'd like to spend some more time here, you can stay overnight for a fee.
Address: 531, Bongeunsa-ro, Gangnam-gu, Seoul.
Subway: Bongeunsa Temple Station, Exit 1.
34. Pass over the "rainbow" at Banpo Bridge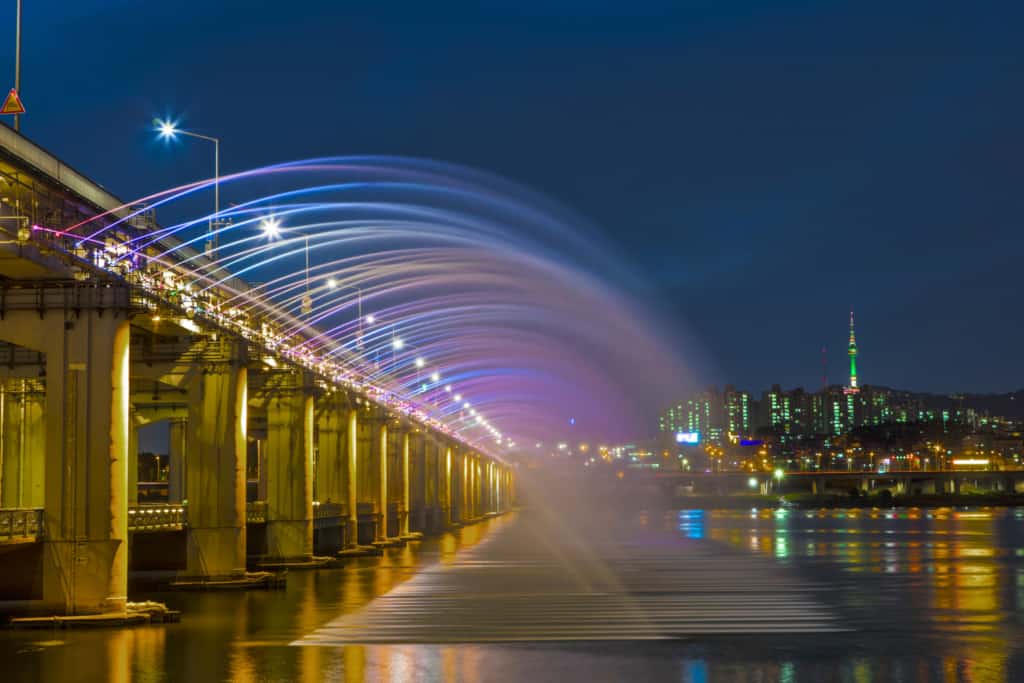 Stretching over the Han River, Banpo Bridge is the upper part of a double-decker bridge structure that connects the Seocho and Yongsan districts.
We recommend that you see the Moonlight Rainbow Show (April to October) which is not to be missed! Composed of water, lights, and music, the show colors the whole bridge in various spectrums making it look like a beautiful rainbow emerging from the dark.
Each minute, more than 200 tons of water run through the pumps that line the bridge while LED lights illuminate the water as it falls from a 20-meter height. You can see the show both during the day or night, however, the night show is more spectacular and looks better on photos. During the day, you will enjoy seeing the sunshine come through the trees illuminating the bridge-fountain.
Address: 350 Dongjak-daero, Banpobon-dong, Seoul.
Subway: Dongjak Station, Exit 2.
35. Jongmyo Shrine – have a look at the most sacred space in Seoul
Korean shrines highly value religious rituals and honoring the memory of the deceased kings and queens. At Jongmyo Shrine, you will find an atmosphere drastically different from the rest of the shrines you see around the city.
Here, instead of splendor, the ambiance is one of peace and can be quite solemn. The original 16th century at Jongmyo is beautifully preserved as close to the original as possible. Entering, you will see the main hall – Jeongjeon which is the home to centuries of history. The world's longest single wooden structure at 109 meters, walking inside, you will truly connect with the sense of cultural heritage and legacy.
You will also find Yeongnyeongjeon, the hall of eternal peace here. An interesting fact to know about the shrine is that it has been declared a UNESCO Cultural Heritage along with the Jongmyo Jerye ritual which has been performed for over 600 years.
The only way visitors can enter the shrine is with a licensed tour guide, so make sure to book your tour before coming.
Address: 157 Jong-ro, Jongno-gu, Seoul.
Subway: Jongno 3(sam)-ga Station, Exits 8 or 11.
36. Get acquainted with the local trends at Sinchon – university central
Known for its vibrant young culture thanks to the many universities in the area, Sinchon is a hip, upcoming neighborhood which you should add to your Seoul to do list.
Here, you will see locals using the latest technological gadgets and setting the fashion trends that will eventually take over the rest of the city. Wander through Ewha, Sinchon, and Hongdae – the top university neighborhoods lined with restaurants, cafes (highly focused in Hongdae), and music coming from every corner.
Pop into one of the photo booth stores to check out the quirky art or stop to see a fortune teller which is a popular pastime activity here. We recommend this area especially for those who are trying to experience Seoul's attractions on a budget, as prices here are lower compared to the rest of the capital.
Address: Sinchon-dong, Seodaemun-gu, Seoul.
Subway: Sinchon Station, Exit 2 and 3.
37. Discover Itaewon – the expat mecca of Seoul
Seoul has many expats coming from all over the world, including the United States, Europe, and South America. You will find the highest concentration of foreigners who have made the capital their home in the neighborhood of Itaewon. With its markets and international food, this is a diverse and vibrant area.
If you'd like to try diverse world cuisine, head over to the street behind the Hamilton Hotel. There you will find a hall full of dishes from New York, India, Thailand, London, China, Greece, Pakistan, Australia, Mexico, Italy, France, and more. You can also find stores that sell handbags, clothing, and fur goods.
If you'd like to go on a small food tour in Itaewon, head over to Gyeongnidan Street which is in the middle of the elementary school district in the neighborhood and is lined with restaurants. The area also hosts two festivals – the Global Village and the Halloween Festival which are attended by both expats and locals.
Address: Itaewon-dong, Yongsan-gu, Seoul.
Subway: Itaewon, Exit 1, 2, 3, 4.
38. Peek into traditional life at the National Folk Museum of Korea
While visiting Gyeongbokgung Palace, make sure to see the National Folk Museum of Korea which is located right inside. Here, you will find plenty of artifacts that tell the story of life in Korea hundreds of years ago.
You will see clothing, books, agricultural tools, and more. There are a few permanent exhibitions that you can visit such as the Traditional Daily Life which demonstrates the eating habits, clothing, and day-to-day rituals of the previous centuries.
Next, you have the Korean Way of Life which showcases hunting tools, weapons, and clothes. Finally, check out the Korean Life Passages exhibit where you will explore the many Joseon Dynasty sculptures, art, and carriages.
The gallery also displays quite a few donated artifacts. You can take your kids to a children's museum here, and treat them to an open-air exhibition. This is a perfect place to visit with your whole family.
Address: 37, Samcheong-ro, Jongno-gu, Seoul.
Subway: Gyeongbokgung Station, Exit 5.
39. Take a stroll through the gorgeous Seoul Forest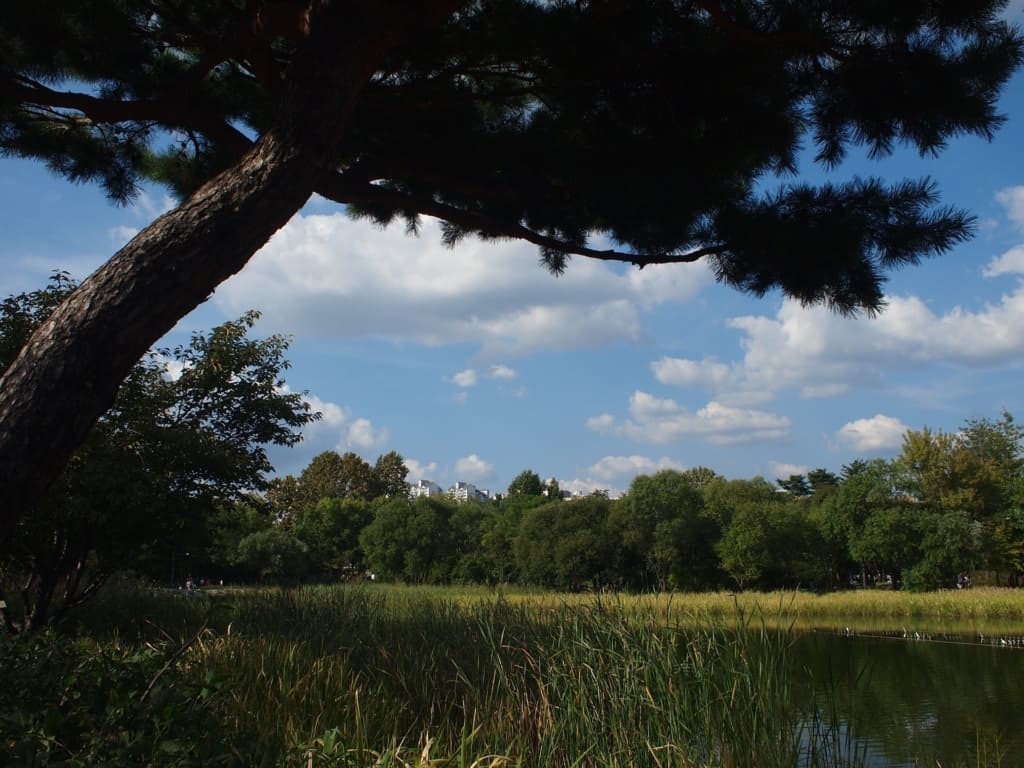 As Seoul is a dense urban city, it has made sure to provide a peaceful nature escape within reach. Go for a walk at the beautiful Seoul Forest.
You can reach it easily by taking the subway from the center. The forest is quite large, consisting of five parks that spread over 595,000 square meters. Think of this park as the equivalent of Central Park in NYC or Hyde Park in London.
Some of the things to do in Seoul Forest are to skate at the specialized park, see a live performance as there is a stage designated for that, have a meal at the waterside lounge, and wander around the eco-forest where you can see elk, chipmunks, mandarin ducks, and more diverse wildlife.
We recommend you to make your way over to the observatory to get the best views.
Address: 273, Ttukseom-ro, Seongdong-gu, Seoul.
Subway: Seoul Forest Station, Exit 3.
40. Grab a seat at the Jeongdong Theater and watch a Miso show
One of the top Seoul things to do, Jeongdong Theater is a cultural hub where you can enjoy critically-acclaimed performances such as a traditional art performance, a "Masters exhibition," and an "Art Frontier," which all focus on preserving performance tradition and introducing it to the younger generations and to foreign visitors.
The number-one most exciting show at Jeongdong Theater, the "Miso" performance was first established in 2010 and conveys the Korean values of beauty and art through something simple and quotidian. You will be entertained by dramatic music, pantomime, and skilled and energetic actors. There are English subtitles to make sure you don't miss a beat. The show is easy to follow and appropriate for children, making it a wonderful family outing.
Address: 43, Jeongdong-gil, Jung-gu, Seoul.
Subway: Seodaemun Station, Exit 5.
41. Spend the perfect afternoon at the Lotte Tower and Seokchon Lake
The Lotte World Tower is the tallest building in the city and one of the top Seoul tourist attractions. The tower's design was inspired by calligraphy, ceramics, and porcelain which are all typical for Korea.
We recommend that you check out the glass-bottom observation deck (the third-tallest in the world) where you can enjoy stunning views of the capital! You will also be able to take on all of the diverse influences that comprise Seoul's urban skyline, from modern to traditional. Inside the tower, you will find dozens of restaurants where you can enjoy a lovely lunch break.
A minute's walk from Lotte Tower, you will find Seokchon Lake. This is a vibrant outdoor area to enjoy, especially on a sunny day. The park surrounding the lake is very-well groomed and is excellent for a picnic or reading a book. The lake really comes to life when the cherry trees blossom in the spring! There are plenty of paths for you to enjoy around here, breathing in the fresh air and having a front-row seat by the glistening water.
Address: 300 Olympic-ro (Sincheon-dong), Songpa-gu, Seoul.
Subway: Jamsil Station, Exit 2.
If you're part of our German audience, then you can also check out Momondo's Seoul travel guide for more great ideas and inspiration.
Unique things to do in Seoul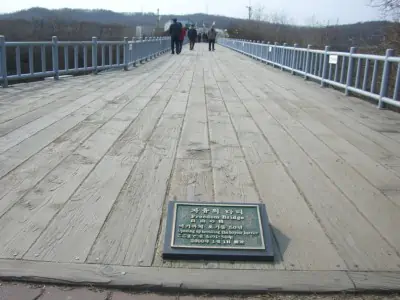 There are many unique things to do in Seoul which can not be found anywhere else in the world. The Demilitarized Zone (DMZ tours) tops the list of where to go in Seoul. The most heavily fortified border in the world, the area will teach you about politics and history through an emotional lens.
While in town, you should go sing your heart out at a noraebang (Korean karaoke room). Challenge your friends to a competition, dress up in costumes, and perform K-Pop hits or retro '90s music in English. The flurry of lights, glitter, and sound will dazzle you!
You should always allocate some relaxation time when you plan on what to do in Seoul. Pop into a jimjilbang (Korean bathhouse) for a full body scrub, a soak in the aroma pool, and a massage. Most bathhouses are open 24/7 so you can stay overnight if you wish.
Want to learn some new cooking skills while in Korea? Take a kimchi making class! You will learn all about the fermented food, see how it's made, and have the chance to prepare it yourself, learning from the pros! Your homemade Kimchi is guaranteed to be the star dish at your next dinner party back home.
Do you love animals? Then check out the raccoon cafe! Blind Alley has two adorable raccoons that love to play with guests. You can feed them snacks and order a delicious drink. This cafe, unlike the rest, will not charge you an entrance fee.
Fun Things to Do in Seoul with Kids
Wondering what to do in Seoul with your kids? You've got plenty of options! Take your children to Lotte World, the largest amusement park in the world where you can enjoy the roller coasters, the ice rink, and the colorful parades. You too, will feel like a kid again!
Challenge your perception and play with illusion at the Seoul Alive Illusion Museum. Your children will have a ton of fun going "inside" their favorite video games and competing at Mario Kart while being characters in the game!
Grab a front-row seat at the crazy Nanta show where flying cabbage and acrobatics go hand-in-hand with dinner preparation.
Go for a nice picnic and a bike ride at Yeouido Hangang Park. Renting bikes here is cheap, and riding is definitely the best way to explore this large park. Treat your kids and yourself to a snack, and see the cherry blossoms!
Want to teach your children about Korean culture? Take a Bukchon Hanok Village tour and see what it was like to live during Joseon times. This has the added benefit of being able to move freely outdoors in case your kids have lots of energy!
Things to Do in Seoul in Winter (December-February)
When you plan your Seoul where to visit itinerary from December to February, you have to take the weather into account first and foremost. The winter months here enjoy a steady temperature that hovers just above zero during the day and drops a little at night. This is the perfect time to enjoy the amazing Korean cuisine that will keep you warm and toasty!
Explore the many pojangmacha (food stalls) of Myeongdong and try the various dakkochi (chicken skewers), Korean pancakes, and gyeran bbang (egg bread). While you're at it, grab a Yukaejang – a Korean spicy beef soup!
If you'd like to get active, one of the most fun things to do in Seoul in winter is ice skating at the rink at Seoul Plaza. This is a fantastic way to get some exercise after having those delicious pancakes!
Another cozy way to spend the day in Seoul is by visiting one of the many tea houses. You can explore the tea rituals of the country and warm up with various flavors such as ginseng, daechu-cha (jujube tea), and maeshil-cha (plum tea). We recommend that you try Shin Old Tea House, The Moonbird Only Thinks of the Moon, Dawon Traditional Tea Garden, and Suyeon Mountain Tea Room.
But if you're looking for the #1 most popular winter activity among locals then check out our post about skiing in Korea. Koreans absolutely love to ski, which is not surprising when you consider that our country is around 70% mountainous.
Things to Do in Seoul at Night
Seoul is a vibrant, bustling city with plenty to do at night! If you're a night owl, how about some shopping? Head over to Dongdaemun between 10 PM and 5 AM and shop your heart out! Or perhaps, you'd like to see the 24/7 food market? Noryangjin Fish Market is open around the clock showing you the life of seafood merchants first-hand! Watch locals trade salmon and octopus and perhaps try a delicacy or two!
Would you like to get a taste of the clubbing scene? Gangnam would be the place to go to party all night while in Seoul. Other Seoul things to do at night include enjoying the night view at the N Seoul Tower, go for a long walk along the Cheonggyecheon Stream, and go on a Han River Cruise! Exploring the river at night is magical. You get to see all the twinkling lights of Seoul while gliding along the calm waters in a comfortable boat.
If you'd like some entertainment, see Banpo Moonlight Rainbow Fountain! The show will delight you with lights and music, transforming one of the city's bridges into a work of art. Just before dawn, you can enjoy a peaceful stroll through Naksan Park and have the trails all to yourself!
Coolest things to do in Seoul
There are more than enough places to visit in Seoul that are cool and interesting in their own rite. Go for a hike at Bukhansan National Park. This is a wonderful opportunity to clear your head, breathe the crisp air, and take photos of the beautiful granite peaks. Venture over to Gyeongbokgung Palace and watch the Changing of the Guard Ceremony which has been beautifully preserved and is reenacted as a masterful ritual.
Visit Jogyesa Temple and marvel at its colorful lanterns and Buddha statues. You can even stay overnight here if you'd like! Go shopping at Namdaemun Market where you will find handmade goods, ceramics, art, hanbok (traditional clothing), and jewelry! This is the best place to buy unique gifts for yourself and your friends. Explore some more local culture and art at Insadong, walking along Insadong-gil (the main shopping street) where you will find wooden tea houses and more beautiful souvenirs.
Go for a ginseng chicken soup at Tsokchon and go bar-hopping in Hongdae! You can even go to an alcohol tasting class where you will try makgeolli (rice wine) and learn all about how it's made. Go explore the royal Gyeongbokgung Palace and immerse yourself completely in the city's culture!
Things to do in Seoul alone
There are plenty of things to do in Seoul alone because the city is very safe and enjoys a ton of entertainment. Some of the places to visit in Seoul if you're traveling solo include Coex Mall. Here, you can see the gorgeous library, explore the shops and restaurants, treat yourself to a bubble tea, and take some beautiful photos of the city panorama from the glass-bottom observation deck.
Visit the National Folk Museum or the Seoul Museum of History. You can easily spend an entire day exploring artifacts and history between these two places. Go see a movie in Myeongdong or hit up the Lotte World Tower cinema. Gift yourself a manicure or a facial at one of the many salons on EWHA Womans University shopping street! Immerse yourself in the cafe culture of the city and check out C27's amazing cheesecake! Or pop into Dore Dore and enjoy the fairytale-like decor where you can relax and sip on a cappuccino with a slice of rainbow cake!
---
Want even more ideas for things to do in Seoul? Check out our full list of Seoul tours.
---
What does your dream trip to Seoul look like?
As you've read so far, Seoul is a vibrant city that never sleeps. From delicious food to beautiful art, fun shopping districts, karaoke, bars, and relaxing spas – there is something for everyone.
So are you the fun-loving traveler who spends the day riding the roller coasters at Lotte World? Are you the nature enthusiast who conquers the trails of Bukhansan National Park? Or are you the foodie who wants to taste anything and everything at Myeongdong?
What does your perfect trip to Seoul look like? Which of these activities would you love to do on your trip? Let us know in the comments below!